Public Procurement and Property
Growing procurement talent at Forestry And Land Scotland (FLS)
March 8, 2023 by Melissa Reilly No Comments | Category Procurement news, Procurement People of Tomorrow, Training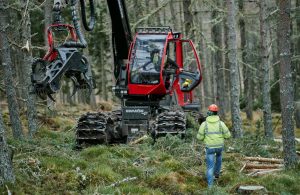 As part of our Scottish Apprenticeship Week communications, we caught up with the procurement team at Forestry and Land Scotland (FLS) to hear how apprenticeships are unlocking potential in their public sector organisation.
Look out for more of our content during Scottish Apprenticeship Week from 6 – 10 March 2023!
Jenna Morrison | Deputy Head of Procurement
How are apprenticeships unlocking potential within procurement at Forestry And Land Scotland (FLS)?
In FLS, we have a large tendering and contract management portfolio and in a tough recruitment market, apprenticeships are helping us to grow our talent pool. The response we've had to our procurement apprenticeship adverts has been really positive and the apprentices we've recruited so far have brought diversity and new ideas into our team.  It has also been a fantastic opportunity for some of our team members to coach new staff for the first time.
Can you tell us about some of your procurement apprentices who are reaching their potential thanks to your apprenticeship programme?
Our first Procurement Modern Apprentice, Kyle, joined us in March 21 on a 2-year contract. Kyle worked across all areas of our team, learning on the job and completing his studies in record time.  A year after starting, he gained promotion to Procurement Support Officer, delivering low to medium risk procurements and supporting some higher risk exercises.  Kyle has recently began studying for CIPS Level 4, which we continue to support him with. Just before Christmas we were also joined by Rachel and Zainab, our 2 new Procurement Modern Apprentices who are already adding value to our procurement category and policy teams. Zainab is also interviewed in this FLS article about apprenticeships.
Why should other public bodies or businesses invest in apprentices?
There's a wide pool of individuals out there that are keen to learn procurement, to innovate and bring new perspective to our teams.  Most of the learning is carried out through on the job coaching, supplemented by other complimentary learning opportunities; so overall this can be a quick and effective way to upskill new team members.  More generally there's a shortage of experienced procurement candidates in the market, so growing new talent will likely be a priority for many public sector procurement teams.
What does the Power of Procurement mean to you at Forestry And Land Scotland (FLS)?
It's about using procurement as an enabler, not just to put contracts in place, but in doing so to facilitate sustainable, inclusive growth and promote employment opportunities and wellbeing across Scotland through our procurement activity. Work on our national forests and land contributes £1 million to the Scottish economy each day, supports 11,000 jobs and soaks up over 3 million tonnes of CO2 each year – our work with suppliers makes a significant contribution to these stats.
What would you say to the 'Procurement People of Tomorrow' considering a career in procurement?
Public sector procurement is a great career choice – no two days are the same and every day is a learning opportunity.  There are so many strands to procurement such as tendering, category management, contract management, negotiation, stakeholder and supplier engagement etc. that really there's something for everyone and it's never boring!  It's a career choice that allows you to innovate and contribute to solutions that tackle important issues such as climate change and inequality.  There are also loads of opportunities for development and progression (I hope I'm selling it, as we really need more people to join us!).
Finally, what's the most interesting or unique thing you've had to procure in your public sector career?
It's really difficult to choose one example as there are so many interesting things we procure.  Most people associate FLS with harvesting or tree planting (which we do procure), but there are also loads of other interesting examples like roads maintenance and technology to support lone workers.  Our contract for  procuring signage for our forests is also a really interesting example – check out this link to see how our current contractor makes our signs.
Kyle Nickells | Procurement Support Officer
What role have apprenticeships played in your career journey so far? My apprenticeship has been absolutely instrumental to the success of my career so far. I started with Forestry and Land Scotland (FLS) back in March 2021 in the middle of the pandemic. My apprenticeship has given me work based experience to help me deliver tangible results for the business, whilst also learning at the same time. I was also fortunate enough to win Modern Apprentice of the Year 2022, so I think overall this has been a great success.
What do you think the benefits of work-based learning in an apprenticeship are? As highlighted above, one of the main benefits is gaining the experience which can then be applied to various apprenticeship modules or within my role in the team. There is a feeling of satisfaction when you look back on a project or a piece of work and you are proud of the outcome. The work based apprenticeship also allows great flexibility and fits in around your day to day role. This means you can submit drafts of modules, with evidence attached at your own pace and manage your own timelines. Another benefit of a work based apprenticeship is earning while you're learning, FLS have been very supportive during my studies and provided me further learning opportunities.
Would you encourage others to take an apprenticeship? Yes, absolutely. The apprenticeship has offered me opportunities I could never have imagined doing such as attending the Young Scot Programme. Apprenticeships often have this stigma that they aren't on a par with going to university, but the truth is that this provides a platform for further learning/education. For example, the apprenticeship has allowed me to complete my qualification in procurement and supply chain and I have now started my studies towards the Chartered Institute of Procurement and Supply (CIPS). Having over two years practical experience in Procurement has also put me in the position to apply for Procurement related roles within the team.
What's next, where would you like to see your career develop? My focus at the moment is on my development, I am currently working towards obtaining CIPS Level 4 Practitioner and my future aspirations are to continue onto Levels 5 & 6 – which will roughly take me three years to complete. I have also been successful in securing a full time position within the procurement team as a Procurement Support Officer and have aspirations to move up further in the company.
Although it's early days in your role, what does the Power of Procurement mean to you? Power of procurement is about the good procurement can do for different people, for businesses, and the economy. FLS do lots of good work that helps to support the economy, creates jobs and gives back to the community.
What would you say to the 'Procurement People of Tomorrow' considering a career in procurement? I would encourage anyone considering a career in Public Sector Procurement to go for it. The decisions made by procurement departments contribute towards business and national objectives and have wide impact not only on the supply chain, but also the organisation and planet. The apprenticeship for me has provided me with so many opportunities, to both develop myself and learn new skill – making a difference is one of the key aspects that attracts me to the role.
What's the best part of your procurement role? Job satisfaction – often procurement can involve tough conversations or difficult challenges but it is really rewarding when you deliver a results for the business.
---
Are you interested in a career in procurement? Discover more about the Procurement People of Tomorrow and the routes into this profession.
---
For further information on public procurement in Scotland please visit www.gov.scot/procurement
Please email enquiries to scottishprocurement@gov.scot
Follow us online:
Tags: apprentices, apprenticeships, CIPS, forestry and land scotland, Procurement People of Tomorrow, Scottish Apprenticeship Week
Comments