Scotland's Economy
Flexible Workforce Development Fund case study – Liberty Steel
February 20, 2019 by paulobrien No Comments | Category Uncategorized
New College Lanarkshire is working with Liberty Steel to deliver training funded by the Flexible Workforce Development Fund (FWDF) to workers keeping steel manufacturing at the heart of Scottish industry.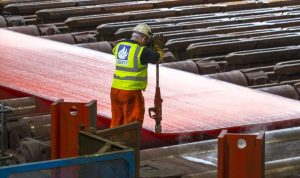 The multinational company has a large manufacturing plant in Dalzell, located around a mile from the College's Motherwell Campus in Ravenscraig. 
The Dalzell site, which employs 170 people, specialises in engineering heavy steel plate used in Offshore Renewables, Oil and Gas, Engineering, Construction and Shipbuilding amongst other industries.
It has 42 staff members enrolled in a wide range of training programmes delivered by the College and funded by FWDF.
These include IOSH Managing Safely, IOSH Working Safely, Microsoft Office Specialist: Excel, NEBOSH, as well as courses in Personal Development & Team Dynamics.
Training programmes are delivered at either the company's premises in Park Street or in classrooms at the College.
Eight employees recently completed a three-day course in Microsoft Office Specialist: Excel at the Hamilton Campus.
Computing lecturer Eamonn Farrell said: "We have people who really want to get involved in the training and they get to learn something that's worthwhile for them.
"For those people who have never used Excel before, you can see them grow in confidence, not just in spreadsheets, but in their general IT skills.
"For those who use it on a daily basis, we can get into the more advanced formulas and functions and it makes their job easier."
James Allison, Operations Manager who has worked at the Dalzell site for 42 years, said: "I use spreadsheets at work but they're pretty simplistic; just formatting some data and transferring it on to other spreadsheets.
"This course has introduced me to different aspects of Excel and the exercises have been easy to follow. Going ahead, I'm really looking forward to using what I've learned."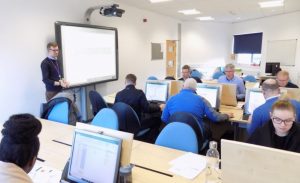 Lesley Dow, Regional HR Manager for Liberty Steel, said: "We at Liberty have a strong commitment to skills development because we're always looking to the long term.
"We greatly value the opportunity to work with New College Lanarkshire to build the skills of our people in order to achieve our ambitious business objectives. In addition, this shows our employees that we value them and support their development.
"We are delighted to have been involved and recognise the huge benefit it has for both our employees from a personal perspective and as a business that is growing and moving into new markets.
"We hope to apply for more funding in August this year to offer project management and further leadership courses to our staff."
New College Lanarkshire provides FWDF training to a number of private companies such as Keppie Design, Inver House Distillers, Dawnfresh Seafoods, Mears Care and XPO Logistics.
It also works with public and third sector organisations including NHS Lanarkshire, NL Leisure and ENABLE Scotland.
Launched in September 2017, FWDF allows organisations subject to the Apprenticeship Levy to access up to £15,000 in funding for staff training and development.
John McNair, Head of Regional Business Development at New College Lanarkshire, said: "We pride ourselves on our skills provision and ensure that all our training programmes are developed closely with employers to meet the demand of the labour market. 
"We are excited to be working in partnership with Liberty Steel to provide a range of tailored training programmes for its staff."
Read more about how you can improve your workforce through training with New College Lanarkshire here: www.nclanarkshire.ac.uk/flexible-workforce-development-fund
Comments