Statistics
Our Statistical System – Building Trust in Statistics
May 15, 2023 by Ally McAlpine No Comments | Category Uncategorized
Recently I have written about the importance of communicating our statistics. But how are we building trust in statistics with our audiences and meeting the wide range of needs to support analysis. I am going to cover how we approach these topics and how this helps us improve our statistical system. And, I will also cover how building trust leads to improving the lived experiences of people here in Scotland.
Reading time: 6 mins approx.
Shaping our future statistical system
In March I attended the 'Shaping the way ahead – the Statistics for the public good' event in London. This was hosted by the UK Statistics Authority (UKSA). Both the UKSA and the Office for Statistics Regulation are important parts of our statistics system. They guide and set the pathway for us to improve as statistics producers. Our aim is to respond to their challenges and specifically add value for the public good.
At the heart of this event was building trust with the public. The Head of the Office for Statistics Regulation, Ed Humpherson, said "Statistics are not just numbers, they emerge from organisations that are trustworthy. They must have quality, and they must have value"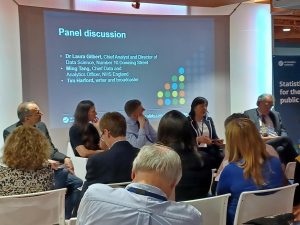 But how can statisticians improve trust in the statistics we produce?
Building Trust in Statistics
Two critical marks of quality for our statistical system are the designations 'National Statistics' and 'Official Statistics'. These provide assurance to the public that the standards of the data, methods and publication uphold the best practices. Sometimes as statisticians we encounter flaws in our data. This is normal, but it is how we handle and deal with the flaws that are important to deliver trust in our work.
What we always aim to do is be as open and transparent on the quality of our data. We must and do show our working. And, we strive to bring forward balance in our reports and highlight the ups and the downs. That way we can publish our statistics with integrity and build trust with the public in our processes. And when assessed, if our statistics pass the high bar for inclusion, they are awarded 'National Statistics' designation.
But we always strive to make them better. That is also part of our process. Our statistics are accompanied with on-going improvement plans. Another activity we regularly do is engaging with our users. These sessions help to ensure that we continue to meet the standards our users require.
National Statistics on Prison Populations
One recent set of statistics, which have just been quality assured and accredited as 'National Statistics' are the Scottish Prisons Population Statistics. Sarah MacQueen, who led the team, recognised the increase confidence the designation will give their users. She said, "The work achieved to date has enhanced our explanation of the data and how to interpret them and improve clarity around the insights the data can offer".
Sarah's team deliver reports that supply prison population trends that are critical to planning across the justice system. They are an important part of helping to deliver efficient public services. Sarah said these statistics help "inform estate planning and the development of prison policy and practice, and also feed into wider strategies for the post-pandemic recovery of the justice system."
Wellbeing Measures – our National Performance Framework
One way in which building trust in our statistics helps us is in measuring wellbeing. This is becoming the leading way to measure the prosperity of a country. We use our statistics to take a broader look at people's lives by using our statistics and analysis from trusted sources. The rest of the UK also have similar wellbeing measures, but Scotland has been leading the way since 2007.
In Scotland, our wellbeing measure is called the National Performance Framework. This is one of our Flagship statistical reports, and it sits above all others in Scotland and a cornerstone in our statistical system. Its purpose is setting the strategic ambitions for all of Scotland to achieve together and reports on broader wellbeing. It measures in general the outcomes of policies delivered to improve our lived experiences. For people delivering services and helping to improve lives it has become the go-to monitoring tool.
By collating and analysing data from across Scottish Government and beyond, including many of our National Statistics, it supplies a broad range of measures in one place. This tool can then support evidence-based approaches to deliver more efficient services. And, in continuing to build trust, the NPF is currently being reviewed as part of the Statutory Review of the National Outcomes
Our National Performance Framework is collecting the best measures to evidence how we are progressing towards National Outcomes and are aligned to the UN's global Sustainable Development Goals (SDGs). Also, this is also helping us become more transparent on how we are performing as a country. Our measures are outcomes focussed and accessible to all. As a result, NPF is putting Scotland on the world stage as leaders in innovative and inclusive ways of reporting and disseminating National Outcomes and SDGs, using data-driven story telling in a global and local context.
What else are we doing?
In the coming weeks I will publish blogs on a range of topics. I will bring forward examples of where we can improve and what we are doing to build a better statistical system.
I will write about the work we are taking forward across Scotland over the coming months. The blogs will cover topics such as an organisation we have trust, quality and value at the core of the statistics we produce. If you would like to hear about topics that interest you in the development of our statistics then you can email here
Comments