Statistics
Developing the next generation of data scientists
July 13, 2023 by Lee Bunce No Comments | Category Data Science Accelerator, Public Sector
This blog is by Simon Rogers, Senior Technical Consultant for Business Intelligence, part of Data and Security at NHS National Services Scotland. Here Simon speaks about his experience of being a mentor on the Data Science Accelerator.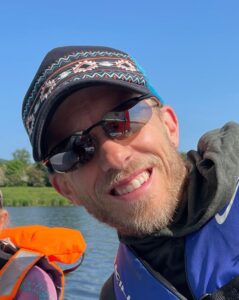 Throughout my career, I've been lucky to have had some excellent mentors. So when I saw the call for mentors to guide participants on the Data Science Accelerator programme I was keen to apply. This is a programme that supports analysts working in the public sector to develop their data science skills while working on a project within their own organisation. 
I was paired with Bob Taylor from Public Health Scotland, who works within my sector of health data science who had proposed a project around agent-based modelling. Bob was aiming to allow users to explore the effect of modifying infection parameters and environments on disease spread using the Julia programming language and Jupyter notebooks.  
The structure of the mentor-mentee relationship is left to the individuals which worked very well for us. Over the 12 weeks of the programme Bob and I met weekly, mostly online, but sometimes in person when we realised we were actually working in the same building! 
As it turned out very little technical input was required from my side – Bob had all that sorted – so my role typically involved acting as a sounding board or 'critical friend' questioning the assumptions on which the work was being built. Through our sessions we identified what could be delivered in the 12 weeks of the programme while also keeping in mind the big picture of developing a solution to a real-world problem. It was great to see the project develop over the programme from an initial idea to a useful product.
Being a mentor was a very valuable experience. It has helped me reflect on my own ways of working – data science lends itself well to experimenting (code is cheap) and it's all too easy to fall down rabbit-holes that might feel interesting but ultimately don't move a project forward.  
The Data Science Accelerator is about much more than the individual projects though. It's an excellent opportunity to network, and I was lucky to meet a lot of people from across the sector. This included other mentors, participants, and people from the wider community, even people from my own organisation who'd I'd never met before in person. 
The public sector data science world can look very complicated and confusing from the outside (particularly when you're new to it) and this programme acts as an excellent hub within which all the relevant parties are brought together.
Based on my experience, I cannot recommend the Data Science Accelerator strongly enough for both participants and mentors. As a participant you'll get time to work on an interesting problem, guidance from an experienced mentor, and all the benefits of belonging to a cohort of other keen data scientists. As a mentor, you'll see lots of interesting challenges and projects, and get the opportunity to help develop the next generation of data scientists. 
If this has inspired you, there is still time to apply to be a mentor on the 2023 Data Science Accelerator programme. Complete the mentor application form by Friday 11 August.
Comments