Building Standards
Fire Safety Standards – latest changes
November 1, 2019 by Stephen Garvin No Comments | Category Building Standards, Fire Safety
As a result of the tragic Grenfell Tower fire on 14 June 2017 reviews of fire safety measures affecting multi storey buildings was undertaken. The Building Standards Division have played a significant part in this process implementing new measures designed to increase safety for building occupants and assist the fire and rescue services when implementing fire-fighting and rescue operations.
One of the outcomes of these reviews resulted in the publication of the 2019 Edition of the technical handbooks. The handbooks apply to a building warrant submitted on or after 1 October 2019 and to building work which does not require a warrant commenced from that date.
The main changes are to the provision for fire safety within Section 2 (Fire) in both domestic and non-domestic handbooks. These changes form part of the output from the Ministerial Working Group on Building and Fire Safety and the 2018 consultation on fire safety and include, the following:
• Removal of reference to British Standards for reaction to fire.
• Amended mandatory Standard 2.4 on Cavities, the only legislative change.
• Reduced trigger height for A1 and A2 cladding and insulation exposed in the cavity from 18m to 11m for all domestic and all non-domestic buildings.
• Introduced A1 or A2 external wall cladding to assembly and entertainment buildings, hospitals and residential care buildings (unless they are of   small areas and of less than 11m height). We continue to cite the full scale façade test to BS 8414 (and BR 135) as an alternative method of satisfying building regulations.
• Two escape stairs in high rise flats are now required in high rise flats with a floor over 18m.
• An evacuation alert system has been introduced for all new high rise domestic buildings for use by the fire and rescue service in the unlikely event of a partial or full evacuation of the building.
• Storey identification signs and dwelling indicator signs will be required to high rise flats to assist the SFRS with their fire-fighting and rescue operations.
• Reference to the introduction of smoke and heat alarms from 1 February 2021 through the Tolerable Standard to all existing dwellings.
It is recognised that following the guidance in the Technical Handbooks will continue to be the most popular route to compliance with the building regulations however it is impossible to write guidance for every eventuality. Therefore, the introductory guidance has been strengthened to reinforce the message that compliance with the functional standards can be met by alternative fire engineered solutions.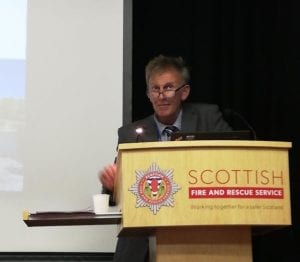 In order to provide further detail into the new guidance, dissemination events have been undertaken engaging with stakeholders to provide an opportunity to highlight areas of change and allow feedback from practitioners.
Standard 2.15 will also be amended in 2020 to require automatic fire suppression systems in all new build social housing, all new flats and certain new HMO's by the end of the current Parliamentary session in 2021.
Phase 2 of the Grenfell Tower Inquiry is scheduled to start in early 2020 and we stand ready to take all appropriate actions as the evidence emerges and consider any recommendations made by the Inquiry.
Tags: buildingregulations, buildingstandards
Comments