Building Standards
Working with our European partners
November 19, 2019 by Michelle Williamson No Comments | Category Building Standards, Procedures
A post from Ken Craig in the Procedures and Verification Team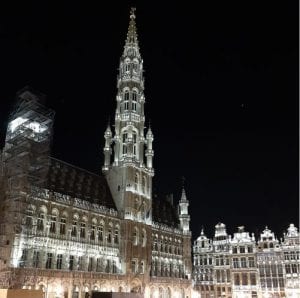 I attended the two day Consortium of European Building Control (CEBC) conference in Brussels on 14 and 15 October 2019. This was a landmark event as it was the Consortium's 60th business meeting.  CEBC consists of member organisations both public and private sectors representing different European countries and associated non-European countries. Members are involved in building control or in the development of appropriate legislation and standards associated with health, safety, accessibility, energy conservation and sustainability aspects of the built environment and include professional organisations and government bodies.
Take a look at the CEBC website for more information at https://www.cebc.eu/.
A varied agenda
The concept of the circular economy in construction was discussed and members considered different initiatives taking place across Europe. This included systems that are designed to make better use of valuable products and materials, changing the way they are produced and managed to have less impact on finite natural resources, and create greater economic benefit. Scottish Government currently has a circular economy strategy; details of which can be found at: https://www.gov.scot/publications/making-things-last-circular-economy-strategy-scotland/pages/1/.
We also reviewed demountable construction systems and their versatility of design, how certain building products can be re-used and recycled and the issues around certifying technical performance. A firm specialising in reclaimed building products provided a presentation on early findings on quality issues when using such materials and highlighted possible savings in production costs.
Looking at workforce competence
Aspects of the conference covered some of the issues that are currently being considered by Scottish Government's Building Standards Futures Board. This included how to assess the competencies of "building control staff", or building standards verifiers as they are known in Scotland. CEBC is interested to understand what systems exist across Europe for the competency assessment of building control surveyors. Delegates were interested to hear about our plans to develop a workforce strategy to help verifiers build a skilled and competent workforce for the future.
Digital Transformation
Discussions were held around the impact of digitalisation of building standards throughout Europe. As part of this exercise, delegates split into groups to consider how technologies can support the handling of applications, data sharing and site inspections. The session also included the potential impact of artificial intelligence, on-site sensors and remote monitoring. The benefits of Building Information Modelling (BIM) software were discussed. In particular, the discussion highlighted the benefits of having a "Total Digital Model" where all information of a building is kept in one file. This includes all details on the development, including specification, contractor details, means of erection, use, maintenance and future demolition/deconstruction considerations.
Members recognised the strengths offered by the system used in Iceland where an app is used to record site visits and monitor when faults have been rectified. All records are automatically uploaded to a central database providing real-time access to a consistent set of records.
Overall, it was agreed that digitalisation offers huge potential for improving building standards delivery in the future but that people are essential for the most challenging and complex parts of the job.
The conference offered a brilliant opportunity to make connections, discuss common issues and share potential solutions with our partners. It was very interesting, and reassuring, to find out that our European partners are facing many of the same challenges that we have in Scotland even if the building standards delivery models can vary significantly between countries.
Tags: buildingregulations, buildingstandards
Comments