Building Standards
Making better use of digital technologies
March 25, 2020 by Michelle Williamson No Comments | Category Building Standards, digital, Futures Board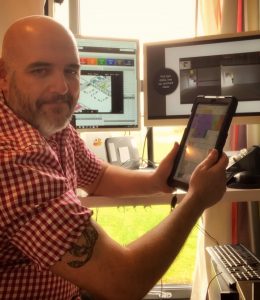 A guest post by Frank Doherty, The Highland Council
While considering this blogpost, we have entered a period of Global Pandemic, with Coronavirus impacting us all in ways we haven't seen before. Delivering a Building Standards service has traditionally been a paper and personal contact exercise, so where does this leave us, and how can we use digital tools?
I spoke at a Digital workshop, hosted by Building Standards Division, on 25 February to tell other local authority colleagues how I have been using technology to support service delivery. In Highland Council we embraced the digital challenge using eBuilding Standards to transform our services to be delivered digitally, no paper, and using tablets to view approvals when on site.
Recently we have taken this further and engaged with larger developers and have been using their digital systems to record our visits and log any issues we feel need to be looked at, or where we have identified compliance failures.
This integration still allows us to download a report containing tagged locations, photos and details of non-compliances, so we can keep our own records (digitally of course) but the real benefits are that our issues are logged, and visible for the whole design and delivery team.
The system also allows us to see what issues have been raised by other stakeholders, including the clerk of works team, so we can gain an overview and judge our level of confidence in the contractor.
Not so much how many issues they are finding, but how efficiently and correctly they are resolving them.
We have also open access to 2D and 3D photographic records, so we can look back and see what's behind a wall, rather than pondering how we confirm what's there is correct. We aren't looking at every photo, or every record, but again we can gain confidence (or not) and investigate simply logging on and quickly if needs be.
We haven't been using these systems to replace physical site visits, but to augment them, however, the current situation should make us all consider new opportunities for service delivery.
As we try and figure out how we keep the statutory service operating while following all the guidance around Coronavirus, we find ourselves with some tools to hand which could become central to verifying compliance.
We have just put inspections on hold until we get our guidance straight for our inspection teams. This is important not just for them, but to do our part to prevent spread and protect our customers and wider society.
We have carried out some completion inspections for a housebuilder using video conferencing. We considered the performance of the contractor on previous house completions on the site, and our level of compliance inspections and sampling we had already carried out and decided this was a reasonable step.
Does digital technology give us an opportunity for transformation? With caution yes. Necessity is the mother of all invention though. Interesting times, and I feel we are in a better place as a Building Standards service because of our digital journey.
Comments