Building Standards
Building Standards Workforce Data Analysis Report 2021
June 24, 2022 by Simon Moore No Comments | Category Building Standards, Workforce, Workforce Strategy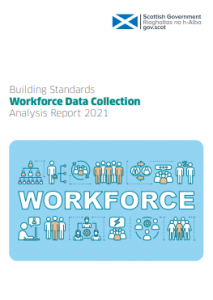 Delivering a first-class and sustainable building standards verification service is the focus of the workforce strategy published in October 2020.  Key actions are improving competence across the workforce, raising the profile of the profession through the Ambassadors' Network and a new Modern Apprenticeship course starting in August will widen access to the building standards career pathway.
Today, we have published the first workforce data analysis report for the building standards profession.  The analysis report covers findings from the 2021 data collection with reference to the 2019 and 2020 data.
An annual workforce data collection exercise is carried out each August to help us measure the impact of the strategy.  Every local authority has participated in the data collection from the baseline exercise in 2019 and each year since to provide a reliable three year trend analysis.  The strategy has been well received across all local authorities since the launch and there is support from Chief Executives through the Scottish Association of Local Authority Chief Executives (SOLACE)
In this report, we're able to share our findings on resourcing the profession, how the demographic profile is evolving, the growth of competence and qualifications held by staff and also the impact of leavers on the workforce.
The three year trend information provides a reliable insight into how the building standards profession is improving operational resilience and adapting to new challenges such as advances in construction technologies.  The workforce strategy is supporting managers to recruit and invest in new talent while offering rewarding careers to experienced and valued professionals.
The workforce strategy is now around the mid-point in the three year delivery period and the evidence from the data collection exercises show the priorities we need to focus on in partnership with local government.  The 2022 collection will begin soon and data will continue to improve our understanding of how the workforce is changing and the progress made in delivering the local and national commitments.
You can find out more about careers in building standards at https://www.labss.org/careers
Comments