Building Standards
Building Standards Futures Board: Verification Delivery Model – Building Standards Hub Pilot
June 15, 2022 by Simon Moore 2 Comments | Category Building Standards, Futures Board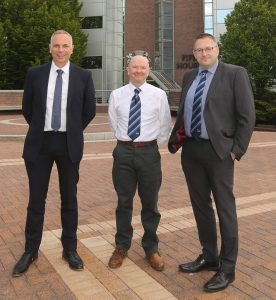 Alan McAulay, previously Team Leader at South Lanarkshire Council Building Standards, and James Whiteford, Lead Building Standards Surveyor at Scottish Borders Council, have been appointed as the Building Standards Hub (BSH) Directors from Monday 23 May 2022 for 18 months. The Directors will be working closely with Local Authority Building Standards Scotland (LABSS), Building Standards Division (BSD) and Fife Council in the coming weeks to set out the initial aims of the BSH Pilot and the long terms objectives and deliverables during the Pilot's 18-month period. The BSH Pilot was officially launched at the Futures Board Meeting on the 15 June.
The role of the Directors is to shape and guide the work of the Hub to best support Local Authority verifiers and inform how local authority building standards joint regional working could be strengthened.

Over the 18 month period the BSH Pilot will assist in providing a central administration, coordination and guidance resource available to all local authority building standards teams in Scotland to support consistency between local authority  verifiers. It will also aim to formalise and develop current LABSS building standards services and explore the provision and sharing of specialist verification skills in areas such as fire and structural engineering.
Partnerships at a national level are also planned, for example the facilitation of workload sharing between local authority verifiers to support customer service delivery during localised workload surges or temporary staff shortages.
If you would like any further information on the work of the Verification Delivery Model or any of the other Future Board work streams, please contact us at BuildingStandards@gov.scot
Comments