Building Standards
Building Standards Enforcement Handbook
March 27, 2023 by Simon Moore No Comments | Category Building Standards, Procedures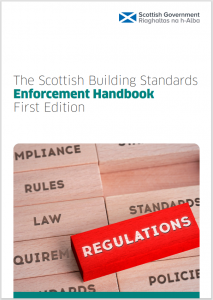 The Building Standards Enforcement Handbook, First Edition, is published today. The Handbook provides guidance on statutory building regulation enforcement powers contained in the Building (Scotland) Act 2003 to support local authorities when carrying out their enforcement function.
The drive to improve compliance with building regulations is a priority for the Building Standards Futures Board. Earlier work introduced changes to the Procedural Handbook covering strengthened guidance on the roles and responsibilities of those involved in all parts of the building standards system from pre-application through to completion.
Ongoing work to develop a new compliance plan approach, initially for high risk buildings, will see the introduction of new processes overseen by a Compliance Plan Manager to draw together evidence of compliance. Following the initial strengthening for high risk building projects, the principles from the strengthened compliance approach will be introduced, in a proportionate way, for all other building projects that require a warrant.
The need for central guidance on enforcement powers was identified by the Review Panel on Building Standards Compliance and Enforcement who "agreed that there needs to be more focused enforcement of compliance with the procedural requirements and statutory building standards by Local Authorities. Central guidance on the issue of enforcement should be developed for implementation by Local Authorities to provide more effective and consistent enforcement across the country."
The Enforcement Handbook was developed in partnership with Local Authority Building Standards Scotland and a number of Building Standards Managers from across Scotland. Determining appropriate enforcement action is the responsibility of the local authority. The guidance in the new Enforcement Handbook is intended to assist local authorities when they are taking enforcement action. The Handbook is therefore primarily for use by local authorities but it is written in a style that should be accessible by everyone with an interest.
It is essential that everyone involved in a building project understands that the overriding priority must always be getting it right from the start and evidencing compliance with building regulations throughout the project's lifetime. Enforcement action is the backstop normally only used when other attempts to resolve aspects of non-compliance during the construction process have been exhausted or when there is a direct risk to public safety.
Comments