Building Standards
Building Standards Local authority visits to Denholm House
July 28, 2023 by Simon Moore No Comments | Category Building Standards, Workforce, Workforce Strategy
Blog post by Linda Stewart, Head of Practice Unit, Building Standards Division
Building Standards Division (BSD) hosted a series of in person visits by local authority verifiers, over four dates in May and June, to our offices in Denholm House, Livingston.
The idea for the in person visits was following the 2022 LABSS conference in Dundee, where BSD presented the new Ambassadors with awards to recognise their support of the newly formed Ambassadors Network.  The conference was the first since 2019 due to the pandemic and allowed networking with many new recruits to the building standards service around Scotland.
The visits to Denholm House gave mainly new staff the opportunity find out more about the BSD and our role in Scottish Government.  We covered a wide range of work in the Division and discussed the work undertaken across the Practice, Technical and Development Units.  The visits were well attended with over 80 new staff attending, and we were delighted that 17 of these were modern apprentices.
Fiona Farrell, Building Standards Surveyor, who joined South Lanarkshire Council in 2016, shared her experience of the visit.
"When I was given the opportunity to attend an event where I could meet the people behind the Building Standards Division, I knew this was an opportunity not to be missed.  I was not wrong; it was a truly remarkable event.  It was great having the opportunity to network with other Building Standard Surveyors / Inspectors / Trainee's from other Local Authorities to gain their views and opinions on Building Standards.
The event enabled me to gain a better understanding on the role of the BSD, especially having the opportunity to see the first-hand inner workings of this department.  It was an exciting opportunity to meet the people behind the 'technical standards'.  To hear their background stories before working within the BSD was fascinating, furthermore, to gain their interpretation and perspective of the standards they had written I found truly invaluable.  To be honest, I could have sat with the Technical Standards Team all day and quizzed them over the standards to gain those small 'golden nuggets of information' that you know you and your own team have spent hours debating over the interpretation of.  It was a fantastic event and I look forward to attending more events held by the BSD."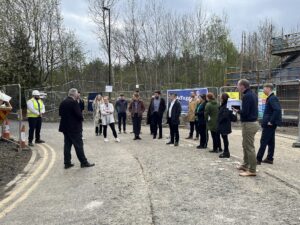 The day included a site visit to the EcoHouse Project at West Lothian College.  The ECOHOUSE is the development of two semi-detached houses on campus, which will provide state-of-the-art training facilities that supports the development of skills, knowledge and practical experience in sustainable construction as well as efficient and effective renewable energies – all underpinned by current and new technologies.
The feedback about the day from attendees and managers was positive, and definitely something we can build on.  Given the success of the visits, we intend to consider what topics staff in building standards would like to hear about next.  If you have any suggestions please do let us know.
Comments