European Structural and Investment Funds
European Structural Funds Summer Newsletter
May 31, 2018 by No Comments | Category Newsletters

Welcome to the European Structural Funds Summer newsletter. In this edition you can read our regular topics including important dates to note, website updates and team updates on Smart, Sustainable and Inclusive Growth as well as articles on Europe Day and the General Data Protection Regulation (GDPR).

Important Dates
Lead Partner Event
19 June 2018, 10:30-16:00
Radisson Blu Hotel, 80 High Street, The Royal Mile, Edinburgh EH1 1TH
The day will cover the Audit Authority's visits, the Managing Authority's stage 2 checks, claims and an opportunity to discuss EUMIS. Michael Russell MSP, Minister for UK Negotiations on Scotland's Place in Europe will be speaking at the event and will hold a Q&A session.
As we will be discussing EUMIS, we would welcome any comments, issues or points you would like us to cover by emailing europeanstructuralfunds@gov.scot by Tuesday 12th June.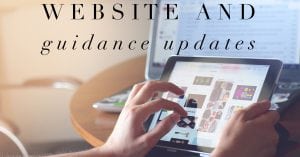 Website and Guidance Updates
The following publications have been updated:
The strategic intervention and operation application forms have been updated and can be viewed here:
The Governance policy page has been updated to include links to the 2015 and 2016 ERDF Annual Implementation Reports:
https://beta.gov.scot/policies/european-structural-funds/esif-governance/

Growth Team Updates
Claims
Lack of supporting evidence does delay the claim process, impacting on lead partners' cash-flow and our ability to meet N+3 targets.
A number of second claims have also included similar issues to the first claim. Please review the findings from verifications when submitting subsequent claims. However we appreciate that this should become less of an issue once we are in 'real-time' with claims.
N+3
Lead partners have been asked to provide realistic forecasts of spend and claims up to end September 2018 to assess the likelihood of meeting the N+3 target for 2018.
The targets this year are challenging and losses could impact on the funding available for phase 2. Please submit claims as soon as you are able to.
Phase 2
To assess extensions, we need to assess progress made during phase 1. This adds to the urgency of all lead partners bringing claims up to date. We have had a number of extension requests over the last few months and have made a number of approvals. As operations are approved this should allow for a number of announcements. Mr Brown MSP, Cabinet Secretary for Economy, Jobs and Fair Work, is keen to visit projects so please let us know of any opportunities.
Any issues please discuss these with your Portfolio and Compliance Manager.
Participant Guidance and EUMIS
As highlighted in the previous newsletter, updated participant guidance was published on the website in early May along with further guidance on the verification of outputs and results. In addition to these, enhanced guidance is being issued in June to provide further help with uploading information to EUMIS.

Smart Growth Update
Smart Growth ERDF claims are taking longer to process due to lack of appropriate supporting documentation to evidence achievements. The National Rules now provide clarification of the necessary evidence for non-financial support. If lead partners are still unsure of the evidence required please contact your Portfolio and Compliance Manager.
All meetings have now taken place with Smart Growth lead partners regarding phase 2. Once sufficient claims have been submitted we will be able to assess the phase 2 requests.

Sustainable Growth Update
The Sustainable Growth team have been working closely with lead partners to work towards developing and securing funding for the phase 2 activity. This includes a challenge fund being developed to support protection and promotion of natural and cultural heritage assets. SNH are leading the development and an active stakeholder engagement event in May which will help to shape the priorities and criteria for the fund.
With a number of existing challenge funds which have had successful application rounds over the past two years, we are now seeing a good number of projects with activity on the ground. Both the Transport Scotland Low Carbon and Active Travel Challenge Fund and SNH Green Infrastructure Challenge Fund have committed to all round 1 projects; with work underway to scope and programme phase 2 activity.
Through all SIs we hope to see good progress and delivery through 2018, with a number of large capital projects now underway.

Inclusive Growth Update
A good range of services and support to participants is evident in the claims being submitted. With EUMIS capturing more in-depth participant data in this programme to meet EC requirements, we have access to very interesting statistics which we will share widely later this year once more data is available across both regions.
It is positive to see some performance targets for 2018 being met including those relating to the number of employed participants supported for Highlands and Islands and the number of deprived/fragile communities supported across both regions in Scotland. There is still a job to do, excuse the pun, to reach the targets for the number of unemployed or inactive participants being supported under the employability projects. We need lead partners to keep uploading data regularly as we are carefully monitoring our milestones during this important year in the programme cycle.
Demand remains strong under the Social Inclusion and Poverty interventions led by Scottish Government with most of the funding for phase 1 fully committed. A further challenge fund round has recently been launched targeting the Highlands and Islands region under the Aspiring Communities Fund. This case study is a great illustration of the activity being supported and how communities are stepping up to meeting challenges in their local neighbourhoods and working locally to find solutions to poverty and exclusion.
This ACF Map link shows the spread of phase 1 grants under the Aspiring Communities Fund and further information on geographical spread will feature in future newsletters.
It is encouraging to see a number of interventions with continuing strong demand across Scotland targeting those in disadvantaged households. Sharing good practice and the outcomes from these interventions will be a focus as we head in to the second phase of the Programmes.

 Europe Day
Once again colleagues from European Structural and Investment Funds attended Europe Day on the 9 May which celebrates peace and unity across Europe.
The Scottish pop/ new wave band Hipsway, who formed in 1984, headlined the entertainment alongside performances from both Scottish and other European acts including Estonia, Ireland, Portugal and Poland.
The last couple of Europe Days have brought beautiful weather with the sun shining bright throughout the day. This year the sun decided to hide behind the clouds for the most part. That didn't stop participants or the public from enjoying the entertainment and vibrant atmosphere.
Piper Stuart McMillan MSP opened the celebration and Lord Provost of Glasgow Eva Bolander spoke in the afternoon. Cabinet Secretary Fiona Hyslop MSP emphasised that whilst this is our last Europe Day before Brexit, it will not be the last Europe Day as Scotland will continue to build and sustain links with European neighbours.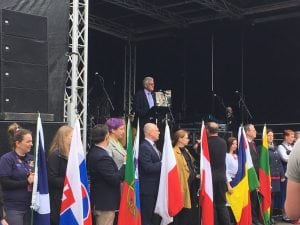 A case study booklet highlighting how projects and businesses have benefited from EU funding was shared at the event. If you would like to receive a pdf of its content please email europeanstructuralfunds@gov.scot.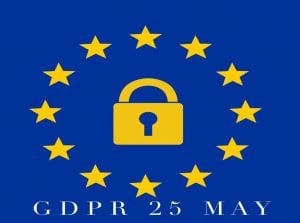 The General Data Protection Regulation (GDPR)
One of the biggest changes to UK data privacy law came into effect on 25 May 2018. The General Data Protection Regulation, also known as GDPR, means that individuals will have more control over how their data is used. And it ensures that organisations protect the personal data that they hold. To reflect these changes and new obligations, we have reviewed our Data Protection Impact Assessment to clearly outline the range and type of data we hold relating to individual participants and end beneficiaries who have been supported by the Structural Funds and which lead partners of strategic interventions are required to share with us. This data is required to enable us meet our regulatory obligations. The DPIA assesses how we process and store this data and the purposes for which it is used. It also highlights the various actions introduced by us to minimise the risks involved in processing this data. This document has been made available on the ESIF webpages.
Comments