Health and Social Care
Chief Officer's Spotlight: Keith Redpath, West Dunbartonshire
September 24, 2015 by Linda White 1 Comment | Category Uncategorized
Integration isn't new to West Dunbartonshire – our successful Community Health & Care Partnership was established in 2010, and that has enabled us to now seamlessly progress into being a Health & Social Care Partnership that embraces adult and older people's services, children's service and criminal justice services.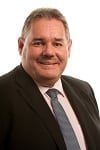 In taking all of this forward, I have had the benefit of sharing thinking and learning with colleagues across the country, primarily through Health and Social Care Scotland, the new formal network for the Chief Officers of the 31 Health & Social Care Partnerships. It is my privilege to be the first Chair of Health & Social Care Scotland, and to work with my colleagues not just to deliver improved services within our respective communities but to contribute to the national debates on how such services should look in the future.
West Dunbartonshire Health & Social Care Partnership Board (which is the title given to our local integration joint board) had its inaugural meeting on 1 July 2015, at which it approved our local Strategic Plan for 2015/16.  At the subsequent August meeting, the Partnership Board approved a number of other key governance "building blocks" – including financial regulations, integrated risk management policy, and audit arrangements – alongside beginning to enter into consideration and discussion of such matters as our Health Board's new Clinical Services Strategy; our Council's development of a new Local Housing Strategy; and the Scottish Government's proposals for a new duty of candour.
As we work diligently to take all this forward, I am frequently reminded that it is important to distinguish the integration of governance and senior management from how front-line services and staff are organised – as they are not the same thing. Locally, our mantras have been:
Don't integrate operational areas just to be fashionable.
Don't segregate operational areas just because of traditions or to pander to protectionism.
Do focus on locally designing teams and services in as efficient a manner as possible to deliver seamless quality for clients/patients.
For chief officers, the notion of integration challenges us to look beyond the ironically old-fashioned label of "partnership working" when it comes to the health and social care services and staff that we are responsible for.  As managers and leaders, there is no more "them" and "us" – there is just YOU, with all the resources, opportunities and responsibilities that brings. For my senior management team and I, that means a commitment to:
Having and sticking to a coherent vision
Setting out a clear focus on common outcomes, quality standards and values – and reinforce continuously!
Streamlining bureaucracy – integration should be about simplification not complication! Managing anxieties – integration is not the end of the world!
Managing expectations – integration is not a magic bullet!
Remembering that people don't live their lives in convenient silos – so neither should the public services that are there to serve them.
Tags: Chief Officer, health and social care, Integration, Partnership, West Dunbartonshire
Comments