Marine Scotland
Your chance to find out more about our Freshwater scientists
April 24, 2017 by Marine Scotland Communications No Comments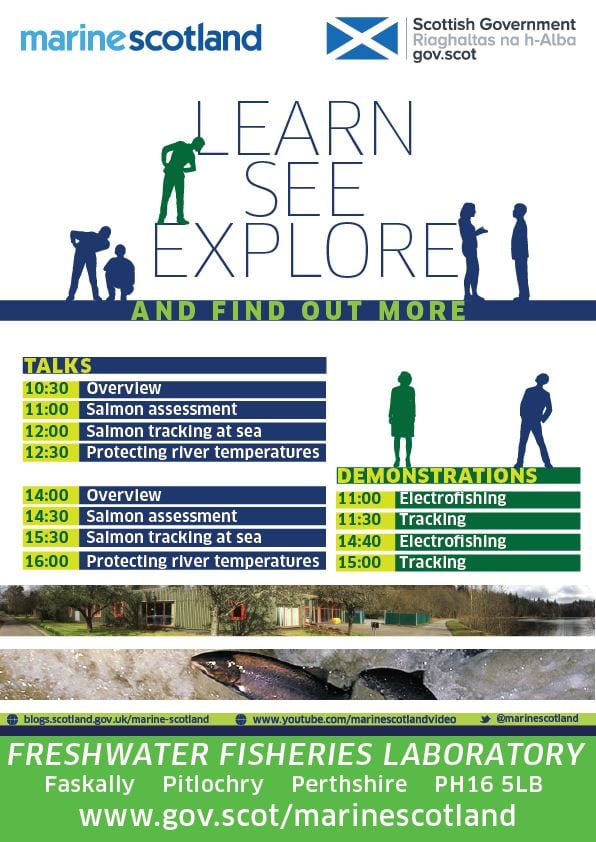 On 13th May, our Freshwater scientists are holding an open day at the Atholl Palace Hotel, Pitlochry.
This free and family friendly event will showcase past and present work that has been instrumental in developing our understanding of Scotland's freshwater fish populations and fisheries. You're welcome to drop in at any time between 10am and 5pm and check out all the different exhibits we'll have on show and scientists will be on hand to talk to you about what they do.
Learn – See – Explore
Study fish DNA, find out how we tell the ages of fish, discover what a baby dragonfly looks like
Find out how and why we follow fish using electronic tags
Watch our fascinating demonstration on catching fish using electricity
Check out our topical talks and informative videos
Chat with our scientists and learn about being a fisheries biologist, geneticist or chemist
Initially set up in 1948, the Marine Scotland Freshwater Fisheries Laboratory employs around 40 staff at its main site in Pitlochry on the shore of Loch Faskally and outstations in Montrose and Shieldaig. Our dedicated team conducts science that supports national fisheries management and conservation. Staff work on a range of fish species in both freshwater and coastal environments, but primarily Atlantic salmon and Brown (sea) trout.
**Book your free tickets now!**
 Further Information
Tags: Family Friendly, Faskally, Free, Open day
Comments