Marine Scotland
Celebrating the Year of the Engineer with a closer look at our ships
November 6, 2018 by Marine Scotland Communications No Comments | Category Marine Scotland Compliance, Marine Scotland general, Year of the Engineer
As we mentioned in our blog in January, 2018 is the Year of the Engineer as well as the Year of the Young Person. Over the course of the year, we've been introducing you to some of our incredibly talented engineers, as well as showing your some of their work.
This month, as the penultimate blog, we're doing something a bit different and taking you through a bit of a photo album to share some proper heavy engineering metal with you. But just before we get started, for those of you in the Edinburgh area, we've got an exhibition running until January at the Scottish Seabird Centre in North Berwick, which showcases our Marine Protection Vessels. There are photographs, videos, uniforms, a model ship and instructions of how to build your own Lego fleet.
But let's be clear – being a ship engineer involves more than Lego. It involves knowing your way around this kind of thing – a propeller shaft and hub: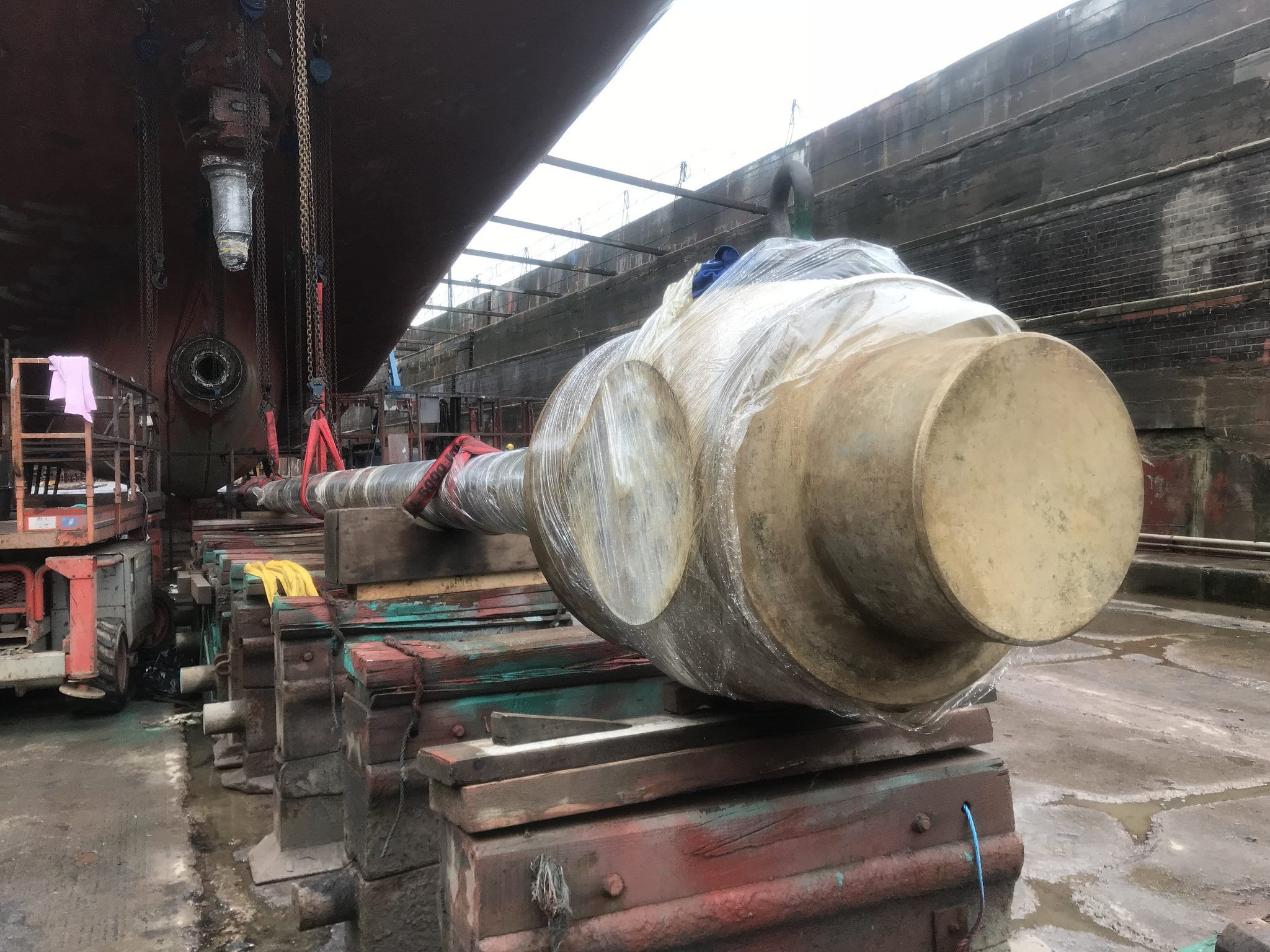 But what else do our marine engineer have to look after? To give you an idea, here are some pictures taken during one of our refits. Just like you MOT a car, we have to do the same with our ships, called a refit. Every 2 years our ships are taken in to dry dock where the hulls are washed and painted, propellers polished, and general under water hull condition inspected.
Survey and maintenance of larger components such as the gear box, propulsion motors, diesel generators, alternators, bow and stern thrusters, auxiliary pumps and electrical switch gear is also carried out during this time to ensure they are, literally, ship shape and safe to be at sea.
Our engineers play a key role during re-fit because of their expertise and knowledge of the ships workings, as well as their range of skills. Without engineers, our ships wouldn't run, so they need to know their way around things like the ship's hull: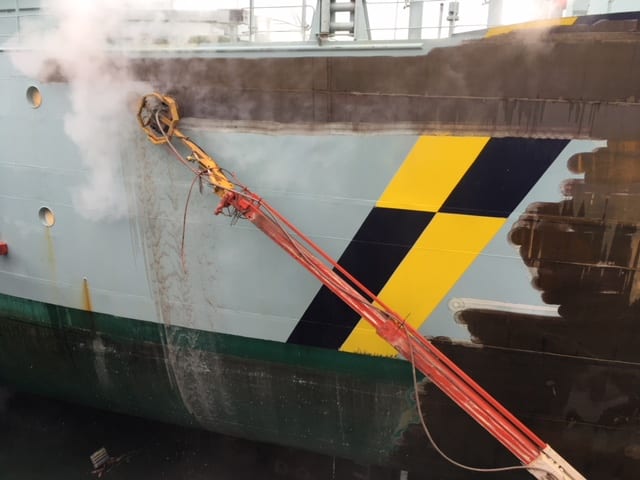 In the photo above the ships old paint system was completely removed to allow a new slick paint system to be applied. The new paint is designed to last considerably longer than the old system and reduce fuel consumption.
Main Diesel Engines Wartsila20 1600KW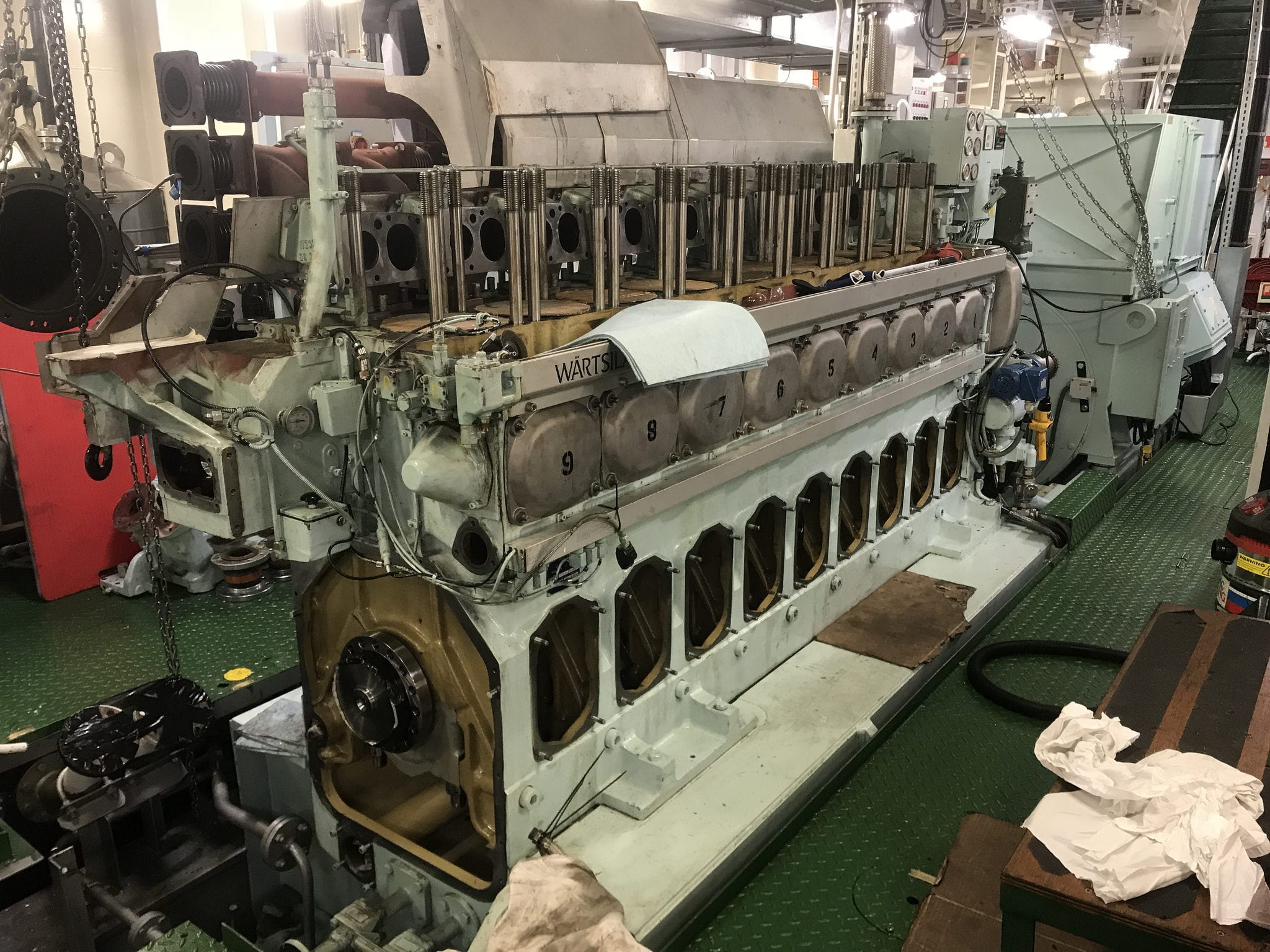 Ships engineers carry out the routine servicing of the generator engines at sea but major engine overhauls and class surveys are carried out every 5 years whilst in refit. Ships engineers supervise and assist the engine manufacturers service engineers during the work.
Maintenance undertaken includes cylinder head overhaul, fuel injection pump overhaul, piston and liner cleaning and inspection, turbocharger overhaul, bottom end and main bearing inspection, camshaft inspection, auxiliary water, fuel and lube oil pump overhauls, inspection of all cooling water passages, TV damper inspection and calibration of all parts to ensure the engine is fit to run for another 5 years.
Switchboards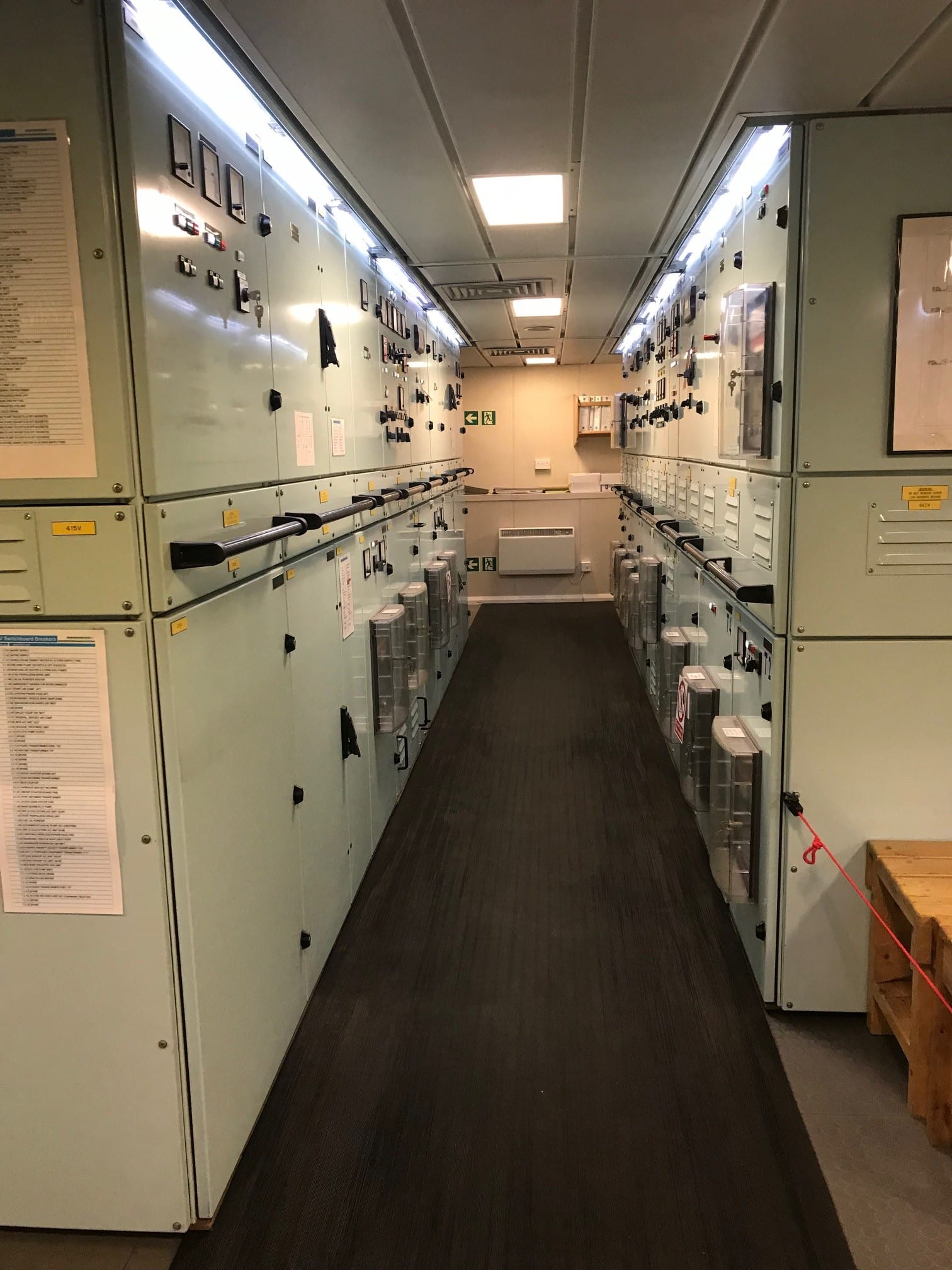 Engineers carry out routine maintenance and inspection work on the ships 660V, 415V, 240V and 24VDC transformers, switchboards and switch gear.
When in refit the vessel is powered from a shore supply so the ships systems can be shut down and isolated, which is much safer and easier to do than when the vessel is afloat in service.
Work carried out – which is a mix of planned maintenance and 5 yearly survey work – includes checking terminal tightness and bus bar connections, inspection of cabling for overheating, checking cable insulation resistance,  inspection and cleaning of the transformers and switchboard cubicles. Engineers also supervise shore contractors who service and test the main circuit breakers and  control systems.
Chief Engineers are qualified to work on high voltage systems, which is any voltage over 1000V. Yikes!
Propulsion motors and gearboxes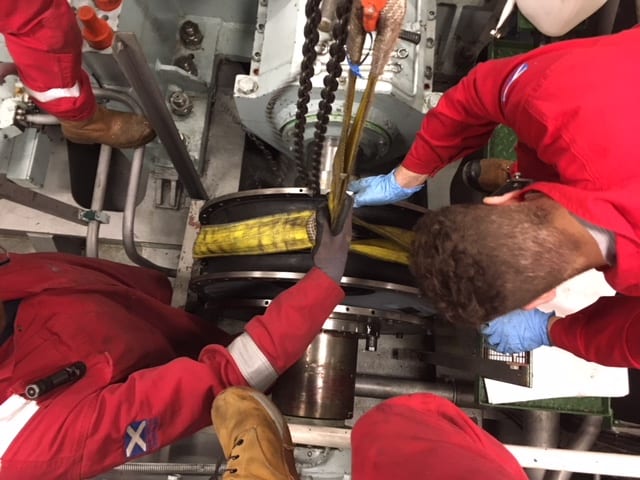 As we mentioned above, a mix of routine planned maintenance and survey work is carried out when the ships systems are shut down.
Jobs include laser alignment checks of the main propulsion motor couplings, internal inspection of the gearbox to check the condition and wear patterns on the teeth, visual inspection of the structure, inspection of clutches and bearings. The propulsion motors are inspected internally, sometimes using an endoscope,  to ensure the stator and armature are in good condition. Electrical tests are carried out to check the wiring insulation. Motor bearings are changed when required.
The engineers in the photo above can be seen removing the flexible coupling element between the propulsion motor and the gear box input shaft prior to removing the motor output shaft coupling to allow motor bearing replacement.
Routine propulsion motor bearing replacement
In the photograph above ships engineers can be seen assisting the shore contractor during the routine propulsion motor bearing replacement.
Due to the compactness of the motor room, the motor had to be raised to ensure the output shaft was clear of the gearbox input shaft to allow the coupling hub to be removed. Once the hub was removed the motor end shields were unbolted and removed to allow access to the bearings.
What you can't see here is that it took the engineers 4 days to prepare the surrounding area prior to the contractor arriving to carry out the motor maintenance. Walkways around the gearbox and motors had to be removed, along with the deck head panels, ventilation trunking and associated pipe work which was in the way. Additional lifting points also had to be welded in place above the motor.
Main genset cylinder heads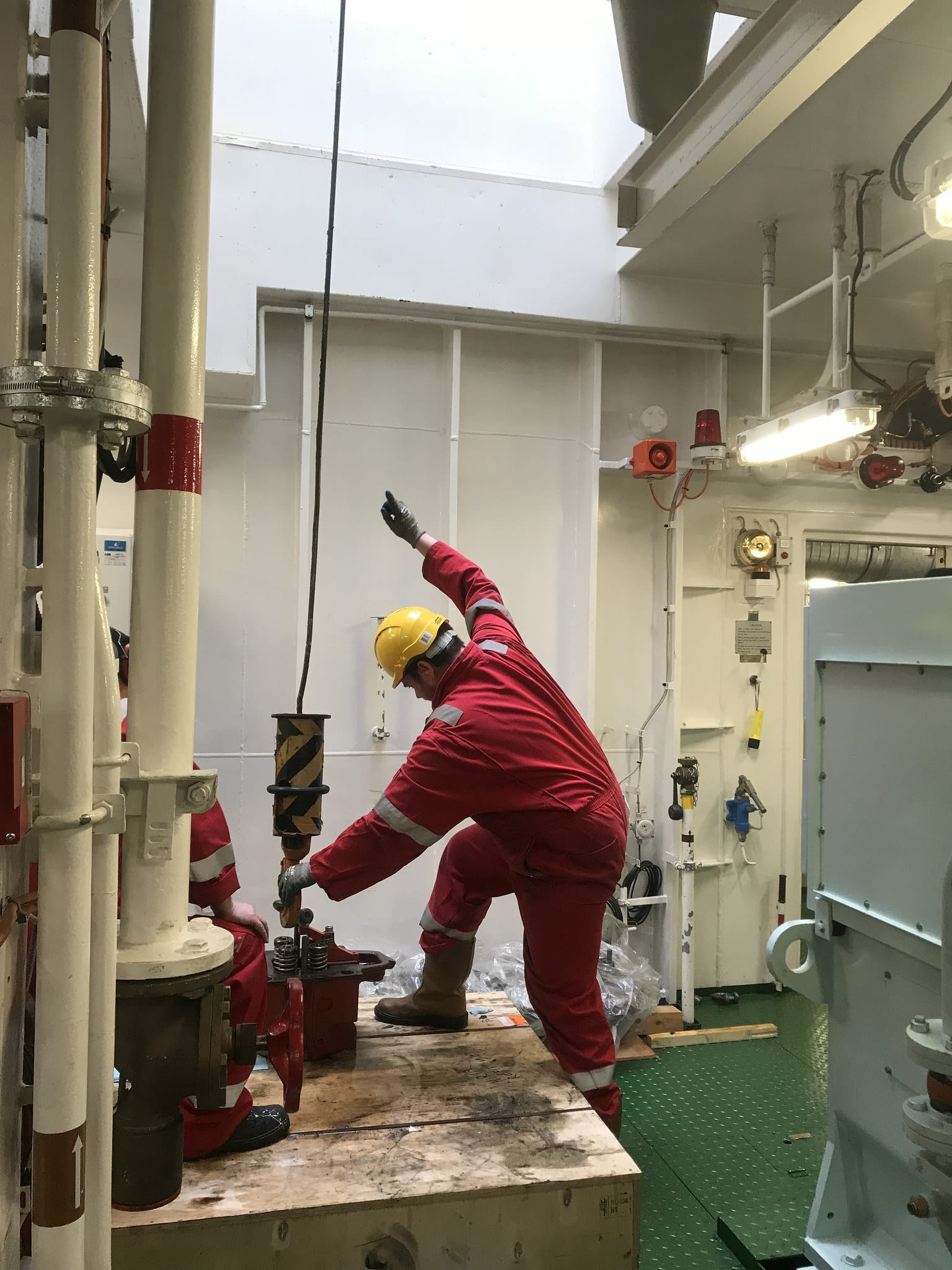 Large parts such as the main genset cylinder heads are very heavy.
The ship is fitted with a telescopic hi-ab crane which can reach into the engine room via a large hatch to lift out heavy items when required.
TIG welding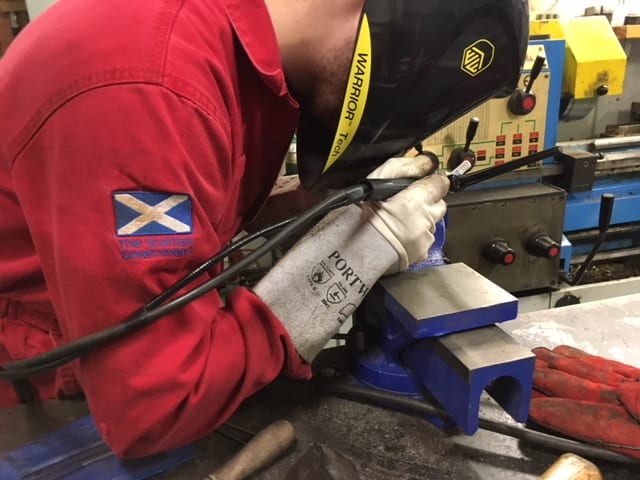 Ships engineers not only have to be competent in mechanical and electrical overhauls of the ships machinery, they also are trained in welding (TIG, MIG, Arc and brazing), fitting and turning. The ships are fitted with a well-equipped workshop with machinery such as a milling machine and lathe. A vast array of power and hand tools are also neatly stored in the workshop. As the vessel can operate 250 miles out in the North Sea, engineers can usually make or repair parts in an emergency to get the vessel back to port where permanent repairs can be carried out.
It does means working at sea for three weeks at a time, but you must admit. It does look like fun!
Further Information
Tags: engineer, engineering, propellor, sea, ship, ships, welding
Comments