Marine
Pink salmon: an invasive non-native species
September 7, 2023 by Marine Directorate Communications 1 Comment | Category Collaborations, Fisheries, Freshwater Fisheries, Invasive Species, Marine Environment
The Marine Directorate of the Scottish Government is working with Fisheries Management Scotland (FMS), NatureScot and the Scottish Environment Protection Agency (SEPA) to co-ordinate a monitoring programme for invasive non-native pink salmon ('Oncorhynchus gorbuscha').  
Sightings in Scottish waters 
Pink salmon have a two-year lifecycle and most have been recorded,  in Scotland, during odd numbered years.  A joint opinion piece paper published by the Marine Directorate, NatureScot and FMS discussed the potential impact pink salmon could be having on native species and habitats in Scotland. Following the increase in pink salmon observations the paper highlighted the need for improved monitoring of the species in Scottish rivers. 
Pink salmon monitoring using eDNA
The Marine Directorate has since been working with district salmon fishery boards to look at the use of environmental DNA (eDNA) for the monitoring of pink salmon in Scottish rivers. Preliminary data generated to date has allowed us to design a much broader monitoring campaign, which was launched earlier this year.
Water samples were collected from 30 rivers across Scotland, in collaboration with FMS, SEPA and NatureScot. Using eDNA-based approaches, information can now be obtained on the presence and distribution of pink salmon in our rivers, which was previously not possible. This data will help to identify where management, and possible control actions, should be focussed to help combat the increase of this invasive non-native species.  
This video shows how our science colleagues monitor using this method.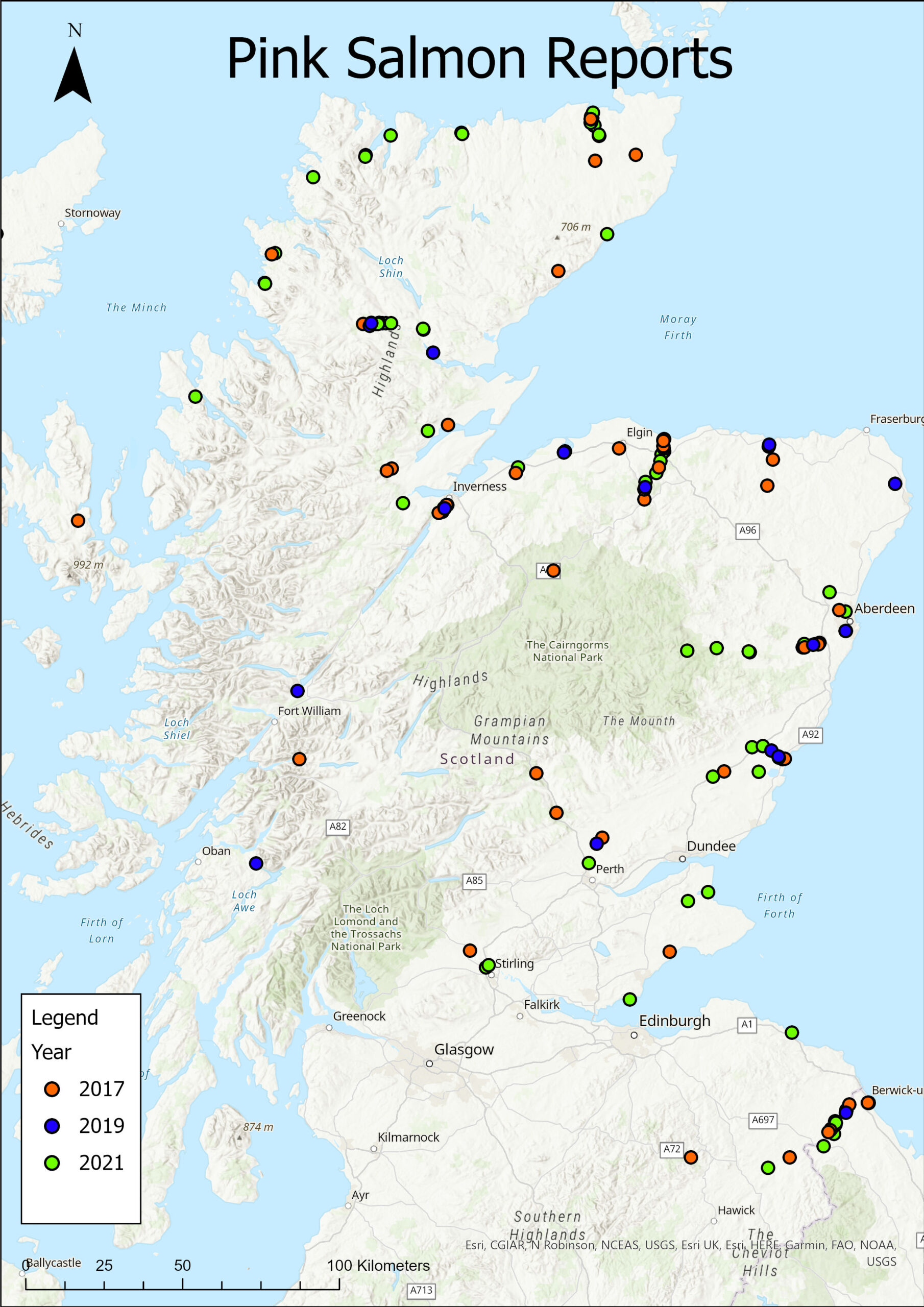 Map of Pink salmon report areas supplied by Fisheries Management Scotland (FMS)
Reporting pink salmon 
FMS has produced detailed guidance to help identify and report incidences of pink salmon and view the findings in real time. 
If you see a pink salmon, or accidentally catch one while fishing for other species, we are looking for your help to gather as much information as possible.  
Further information
Tags: Fisheries Management Scotland, invasive non-native species, invasive species, Marine Directorate, marine environment, NatureScot, Pink Salmon, Scottish Environment Protection Agency, Scottish Government
Comments