Open Government Partnership
My first week in the ScotGov open government team
July 2, 2018 by Niamh Webster No Comments | Category Uncategorized
Our newest staff member, Niamh Webster, tells us about her first week here. Find out about her new role joining the open government team and leading on the thinking around participation.
I've just joined the Scottish Government to work on open government and participation. Coming into the Scottish Government has been quite a change in scale and scope for me, from working in a small social enterprise of around 13 people. I've been specialising in public engagement and trying to improve democracy and for the last 3 years with The Democratic Society (Demsoc). So, while the computer systems have baffled me (being a Mac user has completely eradicated any of my intuition with Windows), and the raw reality of how government operates on a day-to-day basis is quite new to me, the actual work of open government and participation feels like home. It's my area of expertise and my skillset.
I plan to bring this experience to my new role, in thinking about how we communicate, engage and work with the public and civil society on this. I'll be looking closely at the language we talk about open government in and how we can involve those beyond the people and organisations already very much in the partnership. As a team, and as government, we're aware we need to be very open in our own work on this and I'll be trying to figure out the best way to do this. I'll also be bringing a healthy dose of project management and will be working very closely with the network coordinator for civil society open government network throughout.
Open government and participation sits within the Ingage Team, leading on transformational change within the Scottish Government. It's a small team of 10, a division in its own right that sits in the Directorate for Local Government and Communities. We sit across the desks from the Public Bodies division who are currently working on a Scotland wide consultation on local democracy (the Local Governance Review, #DemocracyMatters on Twitter) and colleagues working on community choices (known as participatory budgeting) and public service reform more widely.
My first week
It was a busy introduction to the work of the team:
On my first day, as well as meeting the team at Victoria Quay, I was involved in preparing a briefing for the Minister on the transparency debate on Freedom Of Information (FOI's) on the back of the Information Commissioners report into how FOI's are handled by the Scottish Government.
On Tuesday, I was able to keep in touch with the work happening on 'Online Identity Assurance' by going along to their stakeholder event. Online Identity Assurance is something a team within Scottish Government are working on, researching potential options for verifying your own identity online (for example, when you're applying for benefits, student loans or getting married and need to provide evidence of who you are). I'd been to their 'show and tell' event back in March so it was good to keep in touch with how it was progressing.
I'm interested in online verification exploration, not only because it's linked to ongoing conversations on e-voting, but it's potential scope for citizen participation online more generally – such as local consultations using online tools. Digital democracy is important for open government, more on that another time.. But more than just this topic area, I'm particularly interested in the way they are working 'in the open' and making a real effort to do this programme with people. I really want to know how the staff team running it are feeling about this – it's a big change to put yourself out there and invite support but also makes you vulnerable to criticism. This might help us see what support staff might want or need in opening up like this, which is important if this is what we're asking for and expecting with the Open Government work.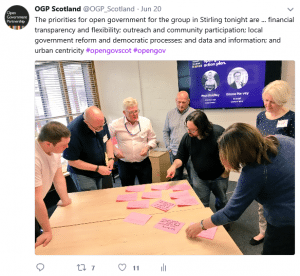 Wednesday was a chance to catch up on my to-do list to get a security pass, figure out how to actually use my phone etc, before we headed off to Stirling for the evening to host a public workshop on open government, talking to people about why they care about openness and what they want to see (all notes from the events will be made publicly available in a summary report coming soon). I think about open government all day every day, so I always find it so grounding to hear from people about why they care about openness and transparency at all governance levels. It's a refreshing reminder about why this agenda is so important.
Thursday: This week I was also at Parliament attending the briefing for the Minister for the OGP Steering Group meeting – the first meeting of the OGP Steering Group between civil society and government representatives. This took place on Thursday, a beautiful sunny day working literally in the open, which was primarily a chance for the members to get to know one another. As Secretariat for the new group, I am responsible for organising and publishing records of these meetings. Find out what they spoke about and join the network here. We're getting a new page on the gov.scot official website too as a place to publish everything openly, and looking into some live-streaming or video as records too.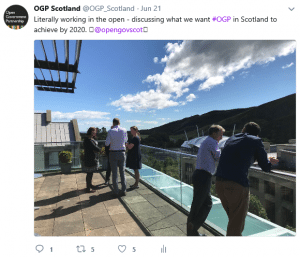 Friday was a chance to catch up with the rest of the team on the other programmes of work run by the Ingage team; Workforce Scotland including Collective Leadership and the Firestarter Festival. I want to link up with the broader work to connect our workstreams, and see where I can support.
Saturday: I was also working/not working on Saturday going along to the Democracy21 conference in Glasgow, organised by the Electoral Reform Society as part of the 'Our Democracy' campaign which encourages communities to 'act as if they own the place'. This conference saw around 500 people gathered together with a range of speakers to talk about making democracy better in the 21st Century. This was designed to feed into the work on the upcoming Local Democracy Bill (mentioned above) with ambitions for local government reform. There was a lot of discussion about the importance of conversations and getting people together, as well as these deliberations taking place online. It seems there's an appetite for doing something differently in our democracy, in getting this amount of people out on a rare sunny Saturday and into a windowless conference room for the day. The range of provocations and challenges raised by speakers and audience members made clear there's far more than could be properly discussed and debated in one day, but perhaps marks the start of this debate gaining serious momentum.
Like any newbie, I made my fair share of silly mistakes in my first week. This included getting someone's name wrong but then only realising half an hour later that instead of emailing them back with an apology, I'd in fact emailed myself to say sorry without realising. But hey, surely now the only way is up. I can already tell that this role around public engagement and citizen participation feels right for me and I'm excited about what I'll be doing and achieving in once I've settled in.
I'll be keeping you all updated on open government as we go through the next few months developing the next Open Government Action Plan for 2018-20 (co-created between civil society and government), so expect to hear more from me soon.
Comments