Planning and Architecture
Planning Delivery Advice – Housing and Infrastructure
December 1, 2015 by planningarchitecture No Comments | Category Housing & Infrastructure, Planning
Feedback on Stakeholder Workshops
In June 2015 Alex Neil MSP, Cabinet Secretary for Social Justice, Communities and Pensioners' Rights, announced that new advice to improve planning for infrastructure and housing would be published towards the end of the year. http://news.scotland.gov.uk/News/Scottish-Government-signals-planning-modernisation-19c7.aspx
The purpose of the advice is to support the more effective delivery of housing and infrastructure across Scotland. We recognise that these are challenging, complex and inter-related issues, which require collaborative working to identify solutions.
Co-Production
To help us prepare the advice, we held 9 engagement workshops between the 27th October to 4th November. They involved a wide range of stakeholders who were tasked to come up with solutions, good practice suggestions and key points to include in the advice.
Over 200 people attended the workshops with a wealth of experience from the planning and development sector, agencies, representative organisations and infrastructure providers. The workshops covered a range of topics such as: Infrastructure Provision, The Role of Key Agencies, Call for Sites, Action Programmes, Cumulative Contributions, 5 Year Effective Housing Land Supply and Innovative Delivery Methods.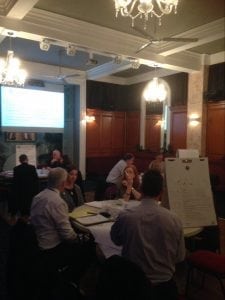 We would like to thank all those that took part. We found the workshops to be a very productive way of getting people together to discuss solutions to a range of complex issues.
We are now using the information from the workshops to draft the advice and intend to publish an online draft version early next year.
Simon Pallant
Tags: independent planning review, planning, planning advice, planning architecture blog, Planning Delivery Advice Housing and Infrastructure, Scot gov planning, scotitsh government, scottish government, scottish government architecture, scottish government planning review, SG housing, sg planning, sg planning architecture
Comments