Planning and Architecture
Place standard Launch
December 10, 2015 by planningarchitecture No Comments | Category Architecture
The new Place Standard tool for Scotland was launched today. Designed to support communities, public, private and third sectors, to work efficiently together, the Place Standard provides a framework to assess the quality of a place.
Place Standard has been tested with stakeholders and piloted in communities across Scotland in 2015 and has been developed through a partnership between the Scottish Government, NHS Health Scotland and Architecture & Design Scotland.
The tool supports collaborative working by providing a framework for structured conversations to occur, and allows participants to consider what action might be taken and to identify where their priorities lie. It enables the physical, social and environmental quality of a place to be evaluated in a structured way, but also, importantly, it aims to initiate positive conversations and collaborations between key groups and to identify areas where quality can be improved.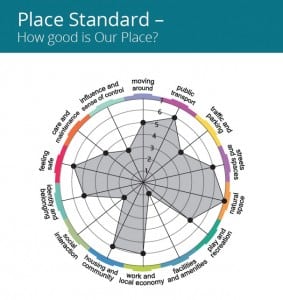 Unlike many other assessment tools, the Place Standard is unique in considering the social assets of a place to be just as important as the physical infrastructure.  Place Standard can be used to evaluate established places, places undergoing change, and those which are still being planned. Users are asked 14 simple questions, with prompts provided to assist them.
Ian Gilzean, Chief Architect and chair of the Place Standard project board, explained the importance of the tool to the Government's equality agenda: "Research shows that the places where we spend our time have an important impact on our lives. The way a place looks, feels and functions can influence our health and wellbeing, and the quality of life experienced in communities. Improving the quality of places can help to tackle inequalities and the place standard aims to provide a platform for the issues relevant to communities and industry to be discussed consistently and effectively."
Following the launch, the Government and its partners will be supporting the Place Standard's implementation. The project team is keen to hear from anyone piloting the tool, and will be gathering case studies over the coming months, which will be shared online. Get in touch at: placestandard@gov.scot or log onto www.placestandard.scot to access the Place Standard tool and learn more. You can follow the launch on Twitter https://twitter.com/ScotGovPlanning #placestandard
Kathleen Marshall
Tags: architecture, Architecture and place, Chief architect, creating places, creative places, place standard, place standard tool, Placemaking, placestandard, Scot gov planning, scottish government, scottish government architecture, Scottish government blog, scottish government planning, scottish government planning blog, SG architecture, SG PAD, sg planning
Comments