Planning and Architecture
Scottish Awards for Quality in Planning 2019
December 6, 2019 by planningarchitecture 1 Comment | Category Uncategorized
The Scottish Awards for Quality in Planning (SAQP) is one of the Government's most prestigious awards. It celebrates achievements in planning, from the detail of processing to the bigger picture of creating places for our communities to thrive. To watch the full ceremony please click on the video links at the bottom of this blog.
This year marked a special occasion with the Awards celebrating it's 20 Anniversary together with 10 years of the Student Design Competition. The ceremony was held at the Balmoral Hotel, in Edinburgh, on 20th November and attended by, almost, 200 representatives from the built environment profession including local authorities, the private sector, key agencies and organisations. John McNairney (Chief Planner) welcomed guests and opened proceedings whilst Mr Stewart (MSP) Minister for Local Government, Housing and Planning gave a closing address.
Click here to see a short film which celebrates 10 years of the Designing Places Student Competition and click here for more information about 2019's Competition.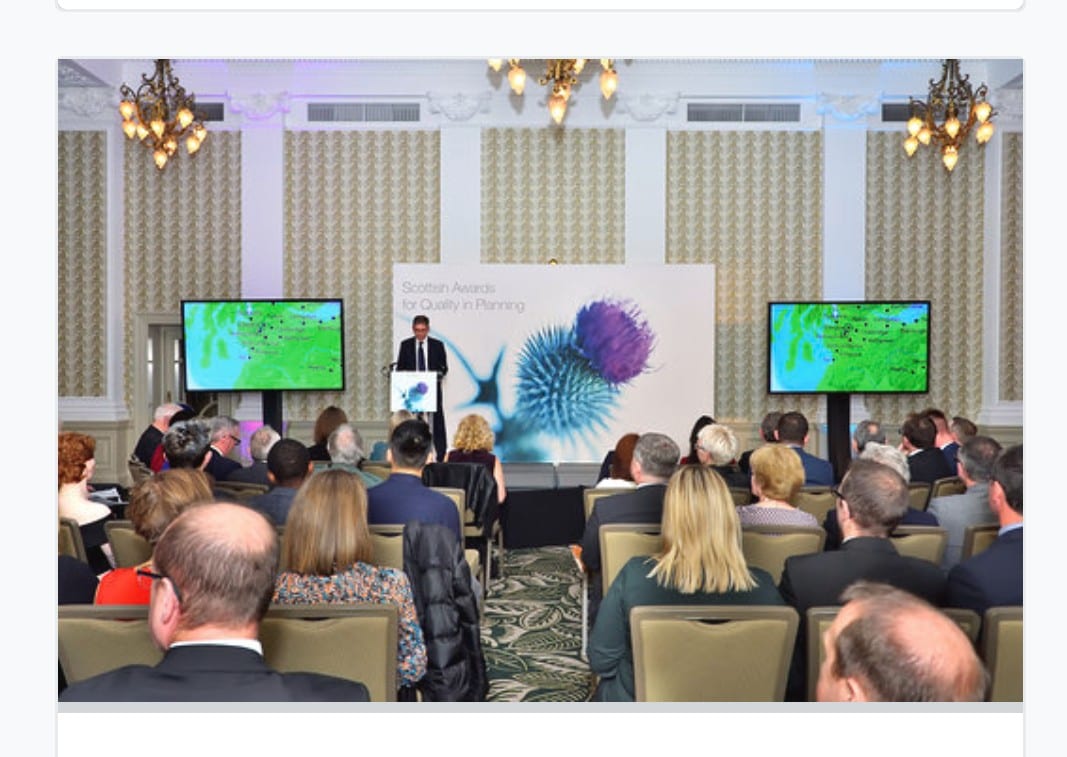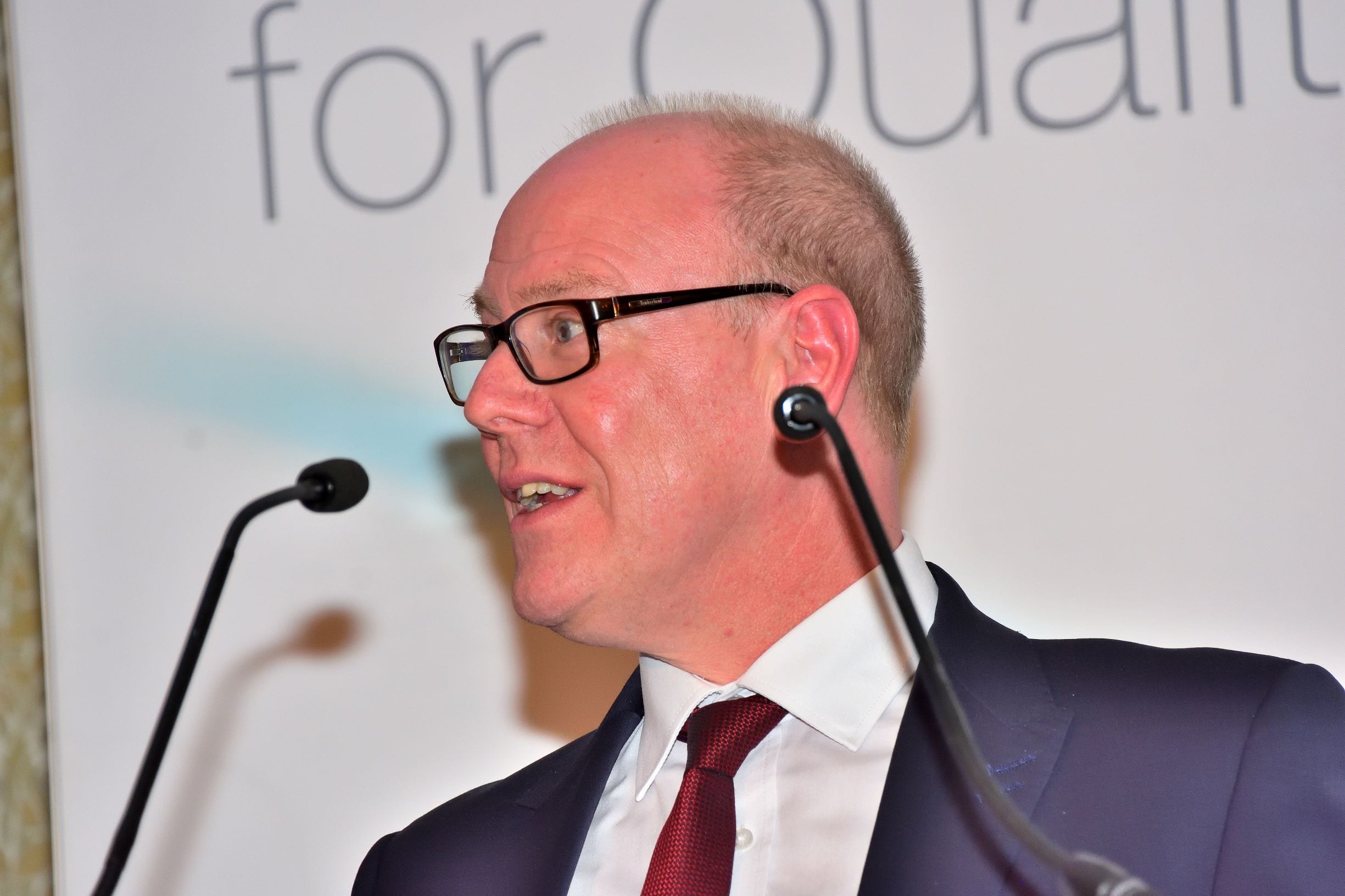 Judges
This year's Judges were:
• Simon Rennie (MBE) – former Chief Executive of the Central Scotland Green Network Trust
• Helena Huws – Head of Destination Development at Scottish Canals
• Irene Beautyman – Planning for Place Programme Manager at the Improvement Service and Senior Vice Convenor of Roya Town Planning Institute (RTPI) Scotland
• Lisa Proudfoot – Planner at Montagu Evans and Chair of the RTPI Scottish Young Planners.
Julia Frost, current Convenor of the RTPI (Scotland) joined the Judges in announcing an Award category. Victoria Hills, Chief Executive of the RTPI, came up from London, especially, to be part of the event and presented on the night. Plus, the President of the Royal Incorporation of Architects (Scotland), Robin Webster, kindly announced the winner of the People's Choice Awards.
Awards' Shortlist
This year there were 54 entries under the five categories of Partnership, Place, Plans, Process and People.

The Judges shortlisted 34 projects and 24 were recognised with an Award, together with an Overall Winner.
Click here to be inspired by a fly through, across Scotland, of all 34 shortlisted entries.
Plus for all of the 34 shortlisted entries you can view them, in more detail, on our interactive map here featuring a description, contact details and the Judges' comments for the Award winners.
Award Winners (under categories)
Process
1. Moray Council – Delivering Successful Places through Quality Auditing
2. Glasgow City Council – Planning Impact Reports (PIRs): Planning Enforcement
3. The Improvement Service – A national spatial hub for digital planning data
4. Aberdeenshire Council – Improving the Planning Obligation Experience for Developers
5. Highland Council – Highland Historic Environment Record Online
6. Highland Council – Developer Contributions in Highland
7. Highland Council – Housing Delivery Team
Plans
8. East Ayrshire Council – Developing Placemaking Plans
9. North Ayrshire Council – North Ayrshire Council Development Brief Prototype
10. Renfrewshire Council – Foxbar Local Place Plan and 'How To' Guide
11. Glasgow City Council – Glasgow City Development Plan
12. Highland Council – Fort William 2040
Partnership
13. Inner Forth Landscape Initiative – Inner Forth Landscape Initiative
14. East Ayrshire Coalfields Environment Initiative – Restoring the East Ayrshire Coalfield Area – Nature Network Legacy
15. West Lothian Council – West Lothian Partnership Centres
16. West Lothian Council – Unlocking Key Development Sites – Innovative Approach to Delivering Infrastructure
17. Fife Council – Cupar CARS THI
18. Fife Council – Fife Opencast Restoration Programme
Place
19. Falkirk Council – Falkirk Town Centre Townscape Heritage Initiative (THI)
20. West Dunbartonshire Council – Council Office 16 Church Street Dumbarton
21. Dundee City Council – Water's Edge, Dundee
22. Glasgow City Council – Shawlands Town Centre Action Plan
People
23. Aberdeen City Council – Union Street CARS – Schools Shopfront Design Project
24. Ironside Farrar & Scottish Power Energy Networks – Stirling Enhanced Landscape Mitigation Project
Overall winner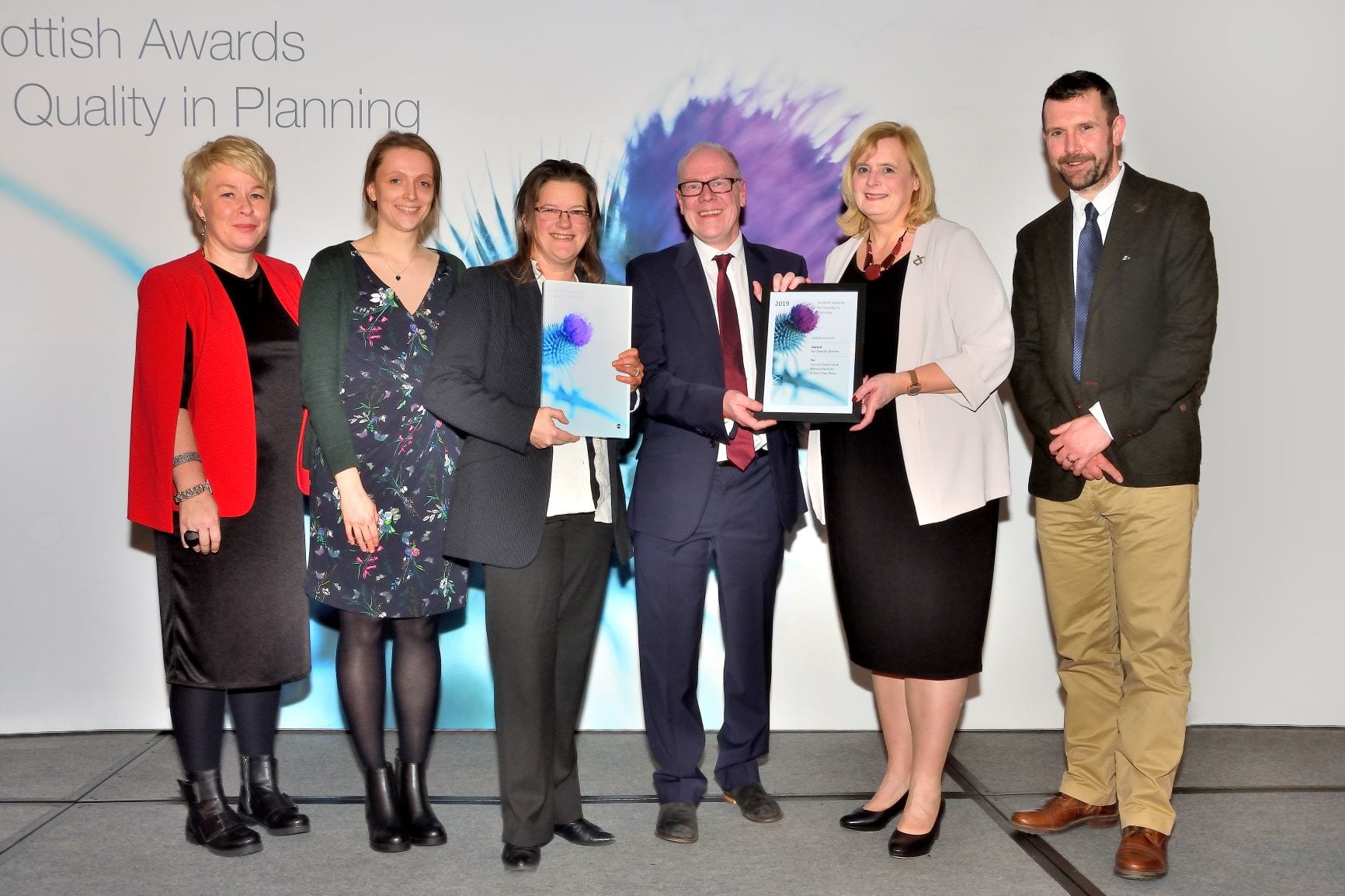 For the first time, in the history of the Awards, there was a 'double whammy' celebration. 'Carron Dams Local Nature reserve: A Dam Fine Place', which was entered by Falkirk Council, not only won Overall Winner, for 2019, but also the People's Choice Award. Congratulations!
The Judges were carried away by the creativity of this initiative and the depth, at which, just one project had an impact on school children – of all ages – as well as for the wider community. Drama, history, sculpture, photography and nature were all choreographed out of outdoor learning space. Plus, in the Team's own words "behind all the activities that they were able to maximise, from the place, the bottom line was all the fun was really education by stealth". The Judges not only felt that the enthusiasm was infectious but, at its core, the project was embedded within the planning strategy for the area.
Note: Simon Rennie MBE was non participative in this Judging process.
Click here to see a short video story for Carron Dams Local Nature reserve: A Dam Fine Place
And finally…
From Planning and Architecture Division, Susie Stirling received Special Recognition Awards for herself and Graham Robinson (who was unable to attend on the night), for their long standing support in the promotion and development of SAQP.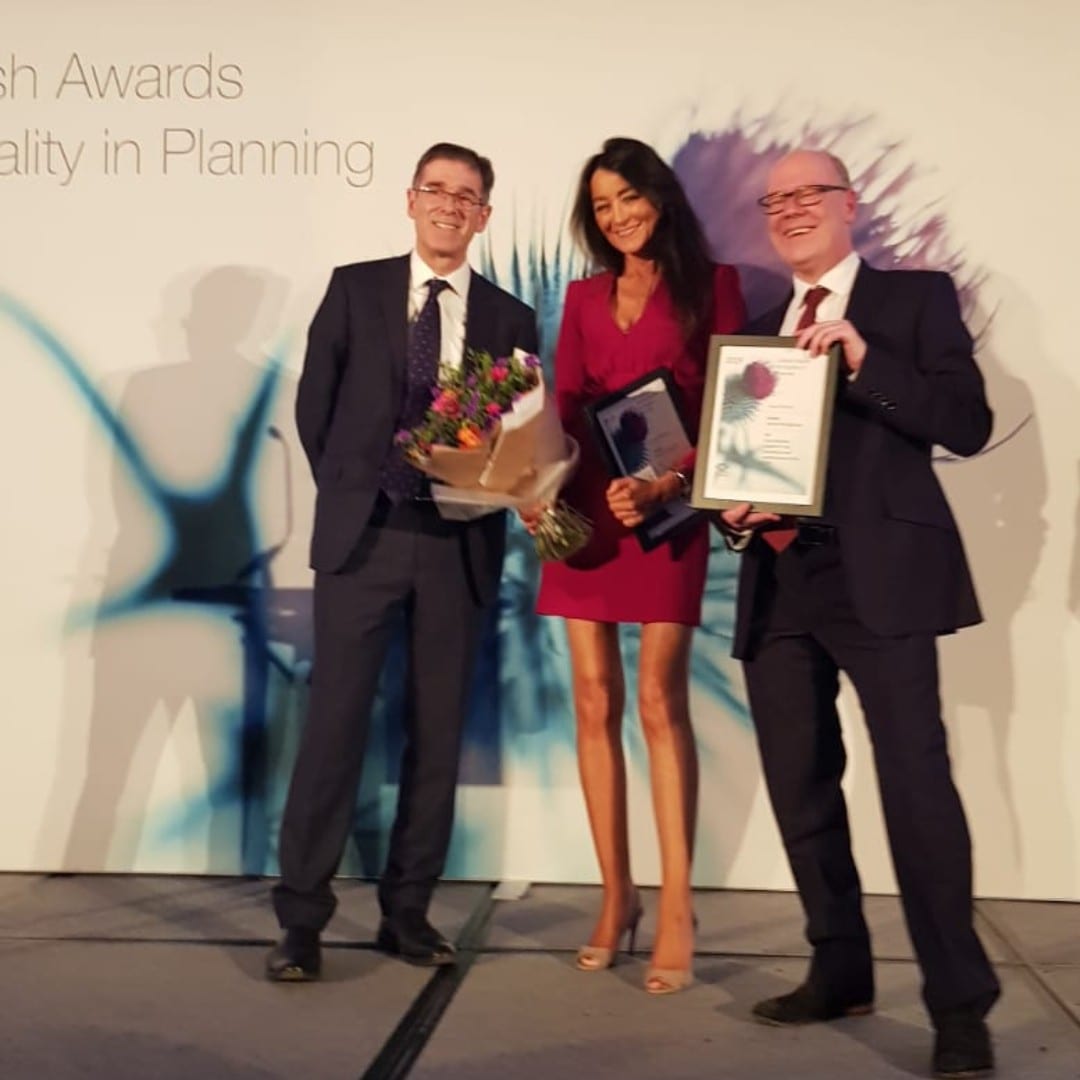 With thanks to Dr Matthew Shepherd who was significant to year's event as well as to everyone who played a part in this year's SAQP.
Entries for next year's Awards will open in March 2020. We look forward to celebrating your work. Thank you.
For updates follow @ScotGovPlanning on Twitter.
Comments