Public Procurement and Property
Career Ready interns – last blog!
July 19, 2018 by Eddie Chapman No Comments | Category Career Ready programme, Procurement People of Tomorrow
Sadly it's almost time for us to say goodbye to our Career Ready interns – for now – but Mya and Rhiannon still found time to write us a farewell blog. Here's what they got up to in the final weeks of the programme:
"We've had a quieter week in relation to attending Scottish Government workshops, however this didn't mean we had nothing to do! We compiled and sent out a Survey Monkey to all of the mentees to get their feedback on their experiences of their internship. We received and overwhelming response which was very positive.
"Thursday was our highlight of the week with a visit to the Sheriff court. The court is definitely an interesting place. We both agree that it was intense watching a live court case take place. We learned so much there, particularly around some of the rules and regulations – it's definitely the quietest we've been since we started here!
"Later on in the day, we caught up with Eleanor Ross who is the director of Budget and Sustainability. She came round and had a chat with us about our future plans and we asked her some questions about what she wanted to be when she was our age. She was really lovely to talk to and we found out that you don't always have to know what you want to do to become successful, just know what you love doing. It was really inspiring to see that you can go from not having a clue to being at the top of your game. Hopefully we can achieve as much as her in our chosen careers.
"This week has been pretty calm (not as many sessions) but, despite that, we've learnt more than we could ever imagine. In the eCommerce team we have learnt about infographics and created the one featured in this blog. We also created an application form using the 'STARR' approach (situation, task, action, result, reflection) and, lastly, we started on our presentation.
"It's unfortunate that this is our final week, we have really enjoyed our time here. Overall it has really helped us both grow in confidence. You never know, you might see us back here at some point!
"Watch this space."
Mya and Rhiannon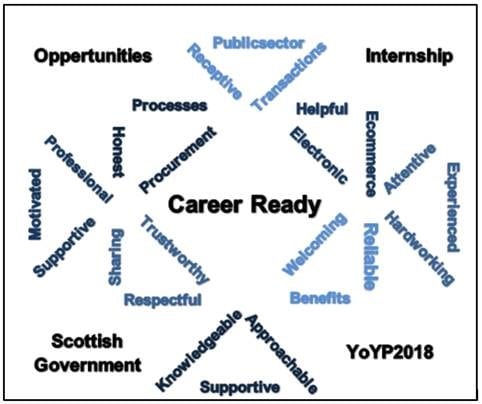 Tags: Career Ready, YOYP2018
Comments