Public Procurement and Property
Talking "sustainable change" and supplying the public sector with Hey Girls
November 30, 2021 by Melissa Reilly No Comments | Category Case study, climate change, Guest Blog, Scotland Excel, SMEs
One month on from the start of COP26, we talk "sustainable change" with Hey Girls – an award-winning 'buy one, donate one' social enterprise, producing environmentally-friendly period products that fund the fight to end period poverty in the UK.
Since launching in 2018,  Hey Girls have grown into a multi-million pound community interest company, generating over 80% of its income from public sector contracts. Sustainability is at the heart of everything Hey Girls does, and they were recently shortlisted as a finalist in the 'Heroes of Net Zero' COP26 awards.
Through its 'buy one, donate one' model, Hey Girls has donated over 19 million environmentally-friendly period products through a network of 150 community partner organisations such as women's refuges, homeless shelters and food banks. Their aim is to help eradicate period poverty, enable better access to quality period products for all and to stomp out the stigma and bust the myths and taboos that surround periods.
So Hey Girls, tell us…
Why is reducing your environmental impact important to your organisation – and what innovative actions have you taken to support this?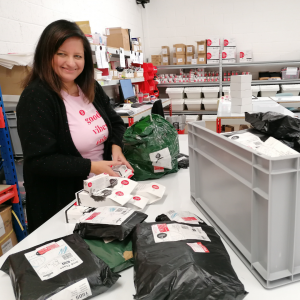 Social and ethical choices are at the heart of everything we do – from the people we employ through to our supply chain and eco-conscious ethos. We have pledged to make serious efforts to reduce our carbon emissions and footprint. We have signed up to the UN's global goals to reduce our emissions by 50% by 2030 and become completely net zero by 2050.
We design our products with our customers in mind. From considered designs to natural material choices, we only use 100% certified organic cotton, sustainable bamboo and chemical-free products meaning we protect people's health, not harm it. We want our business operations to be as gentle as our products.
 Hey Girls was recently the only Scottish finalist in the 'Heroes of Net Zero' competition, what does it mean to your organisation to be a "Hero" of Net Zero?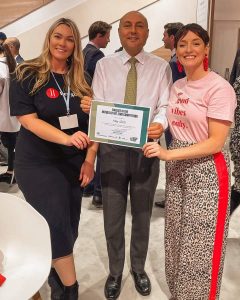 It was a proud moment – to essentially represent Scotland in the important arena of sustainability was a huge honour. All our period products are responsibly sourced and made from sustainable materials, offering the functionality of plastic, without the pollution. Everything we create is biodegradable or recyclable so our customers really are doing good with their periods. We were nominated in the awards due to our commitment to creating zero waste packaging on our products, our 100% green parcels when delivering our products to customers and how we build sustainability into our supply chain.
Can you tell us about the approach you developed during the pandemic to ensure that goods still made it people that needed it?
As part of Fife Council's #ourfifematters climate change agenda, the council appointed Hey Girls to provide sustainable period products to residents in need via a new 'home packs' initiative in August 2020 which resulted in 13,000 order requests from residents and 32,000 period products being sent to people in need at their home addresses. In total the initiative saved 5,280 pads from landfill (equivalent to 26,400 carrier bags worth of plastic).
Hey Girls joined Scotland Excel's Washroom Solutions Framework in 2018, responding to Scottish Government's call to provide period dignity to people in education in Scotland by providing free sanitary products in schools, colleges and universities.
Can you tell us more about your involvement in this Framework and achievements to date?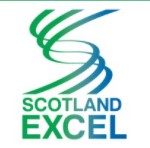 The ability for people to access free – and quality – period products is extremely important in reducing poverty across the board. Procurement departments are becoming increasingly aware of this, and are also looking to create added social value by working with social enterprises. So Hey Girls offers a unique package.
The project was conceived to support the Scottish Government's initial £5.2m commitment to providing period dignity to people in education in Scotland. The Scottish Government thoroughly researched the issues including identifying the potential need for free sanitary products in schools, colleges and universities, and turned to Scotland Excel to find the most expedient and cost-effective product supply mechanism.
Scotland Excel identified that there was an opportunity to add an extra lot to its Washroom Solutions framework and mobilised to engage with suppliers. We responded to the call for the provision of period products through Lot 2 and were awarded the contract – along with three others.
We got shortlisted for a GO Award for this scheme. The collaboration was forged around a commitment to support equality, dignity and rights for those who menstruate and to ensure that lack of access to products does not impact on an individual's ability to fully participate in education.
As a social enterprise, why is paying the real Living Wage important to your organisation? 
Hey Girls is proud to be part of the Living Wage movement. As an accredited real Living Wage employer, we ensure all our 21 employees are paid the living wage or more. We are also proud to say we employ two young people on the Kickstart scheme – the government initiative to get 16-24 year olds into the job market – a living wage of £9.53 per hour instead of the mandated national rate of £6.56.
What advice would you give other SMEs / social enterprises looking to start working with public sector?
Ensure your values match: The best supplier-procurement relationships in the public sector are the ones that are strongly aligned on values. We produce in small batches, as environmentally-soundly as possible so that we can offer a truly sustainable product. We value our people, from our two female teams of pack and dispatchers to everyone in our entire supply chain.
Can you offer something innovative? We spent three years fine-tuning the 'buy one, donate one' business model for Hey Girls, making sure it is robust, transparent and measurable. However, sometimes unexpected things happen. The pandemic made us pivot into our 'Home Pack' service delivering period products directly to the home doorsteps to people in need, still allowing us to fulfil our 'buy one, donate one' promise and keeping our team members in work.
What can you offer above and beyond? As well as donating period products to help alleviate UK period poverty, one of our core aims is to help stomp out the stigma around periods and to facilitate learning. One of the reasons many customers come to us is that we provide an array of period education resources, from train the trainer packs to presentations about period poverty and equality.
Be committed: long terms relationships work the best in public sector. To really make the most of a procurement partnership, both supplier and council need to go in with honesty and transparency. They also need to understand that it's a two-way relationship; it is give and take. All the best relationships are reciprocal; over the years we've found the best collaborative partnerships take both time and effort to establish.
---
Thank you very much, Hey Girls! Businesses wishing to find out more about working with the public sector can view opportunities at Public Contracts Scotland (PCS).
Businesses can also use our free-to-access 'Sustainable Procurement Tools' to find out more about Climate Literacy and improving the sustainability of procurement activity.
Follow us online:
Tags: climate change, Community benefits, environmental benefits, Fair Work, framework agreements, procurement, Public Contracts Scotland, Public procurement, public sector, public sector procurement, Scotland Excel, Scottish Procurement, Sustainability, sustainable procurement
Comments