Public Procurement and Property
Talking sustainable procurement with 'The National Galleries of Scotland'
April 14, 2022 by Guest Blogger No Comments | Category Guest Blog, Sustainability, Sustainable Procurement
To celebrate World Art Day (15 April), we welcome a guest blog from The National Galleries of Scotland on how they are embedding sustainable procurement in their Environmental Response Plan (ERP).
---
The National Galleries of Scotland cares for, develops, researches, and displays the national collection of Scottish and international art and, with a lively and innovative programme of activities, exhibitions, education, and publications, aims to engage, inform, and inspire the broadest possible public.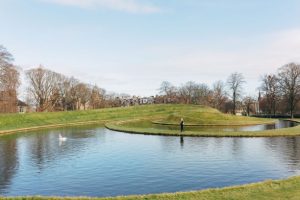 As part of our work in response to the Climate Emergency being declared, our new Environmental Response Plan (ERP) has been developed through close consultation with colleagues from across our organisation. The plan recognises that a significant amount of work has already been achieved, and much of it behind the scenes. We are building on this progress and looking to the future by committing to three priority areas:
Engaging and Inspiring – Working with our partners in Scotland's cultural sector and beyond to inspire people and communities to do whatever they can to help make positive change. Through our exhibitions, learning programmes and digital content, we will find inclusive and sustainable ways to engage our audiences in understanding how we can all contribute to a low carbon society.
Playing our part to achieve Net-Zero – As Scotland's aims to reach its net-zero target before 2045, we will reduce our environmental impact by adopting low carbon alternatives wherever possible across our own estate.
Protect our world class collection – Preparing for the effects and impacts of climate change in order to protect Scotland's world-class art collections for future generations.
Procurement is woven throughout the whole ERP, as it affects so many different areas of sustainability. From engaging with our suppliers to helping us reach net-zero through our Scope 3 emissions, through to being a key part of analysing our resilience to climate change through supply chains.
Engaging and Inspiring
Engagement through procurement has been ongoing for many years. At present we are driving up our efforts by targeting regulated contracts which lend themselves to better defined processes and reporting requirements due to clear environmental links. For arts focused tenders, we are working to expand our sustainable thinking and challenge the status quo, collaborating with other organisations to consider innovation, added value and availability in the marketplace.
Most recently, our attention has been focused on the production and supply of fine art crates for art transportation, with the hope of securing a solution which embraces a circular economy strategy. In 2022, we will re-tender our Art Transportation Framework and publishing a 'PIN: Request for Information Notice' so that suppliers can engage, review and consult on our procurement and contract strategy with the aim of delivering greater innovation and commitments toward carbon reduction.
Achieving Net-Zero
Mapping a pathway to net-zero is one of our main aims, with procurement sitting within our Scope 3 emissions. Currently we are looking at how to quantify our emissions from procurement to help inform our decision on which contracts might be able to aid us in making reductions in this area.
Our 2022 Procurement Refresher Training will place greater emphasis on sustainable thinking, tools  and circular economy strategies. We will link to the Scottish Government Climate Literacy e-Learning module (part of the Sustainable Procurement Tools), and this will be mandated for certain colleagues.
Protecting the Collection
Adapting to climate change will be key within procurement as summers become warmer, winters become more wet and more frequent storm events occur in Scotland. We need to consider how this might affect our services and look further afield at more extreme climate impacts that could affect our supply chains internationally. We plan to map out these risks for business continuity and consider options for adaptation.
Although sustainable procurement has been discussed and part of our Procurement Policy and Plan for some years, our ERP is a particular step change in helping us have sustainable procurement embedded in all our departments. It is early days, and we are enjoying collaborating with other organisations to find innovative approaches and solutions.
Read more on The National Galleries of Scotland Procurement Policy
---
For further information on public procurement in Scotland please visit www.gov.scot/procurement
Please email enquiries to scottishprocurement@gov.scot
Follow us online:
Tags: environmental benefits, guest blog, procurement, Sustainability, sustainable procurement
Comments