Public Procurement and Property
Celebrating success at the GO Awards 2023
November 2, 2023 by Melissa Reilly No Comments | Category GO Awards Scotland
On 31 October 2023,  the GO Awards 2023/24 took place at the Crowne Plaza in Glasgow. Procurement and supply professionals from across the country came together to celebrate the very best procurement achievements from across Scotland's public, private and third sector organisations!
View the winners of the 2023-24 GO Awards Scotland 
We'd like to wish all of the winners a huge congratulations. Our colleagues in the Scottish Procurement and Property Directorate won the 'Best Procurement Delivery Award' for the provision of Tech Scalers and the overall 'GO Excellence Award'.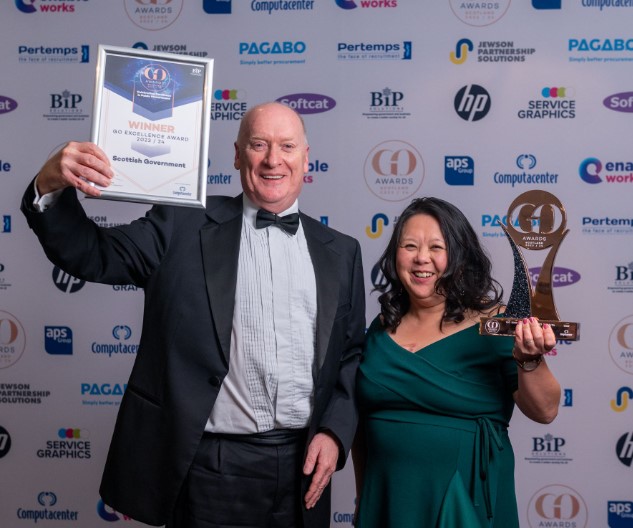 Jenny Lochhead, Senior Portfolio Specialist said "I would like to sincerely thank the judges in honouring the team with the Best Procurement and Overall Excellence award and for recognising all the hard work that was put into this project. I am truly and honestly thrilled to accept these awards on behalf of all of my colleagues who will be delighted at receiving recognition for all the effort that went into making this procurement a success. This contract has the ability to make a real difference to the Scottish Tech Industry and economy and I'm excited to see how it progresses."
Our congratulations also go to our very own Leigh Syme, Portfolio Specialist, who is the winner of the first-ever 'Procurement People of Tomorrow' award!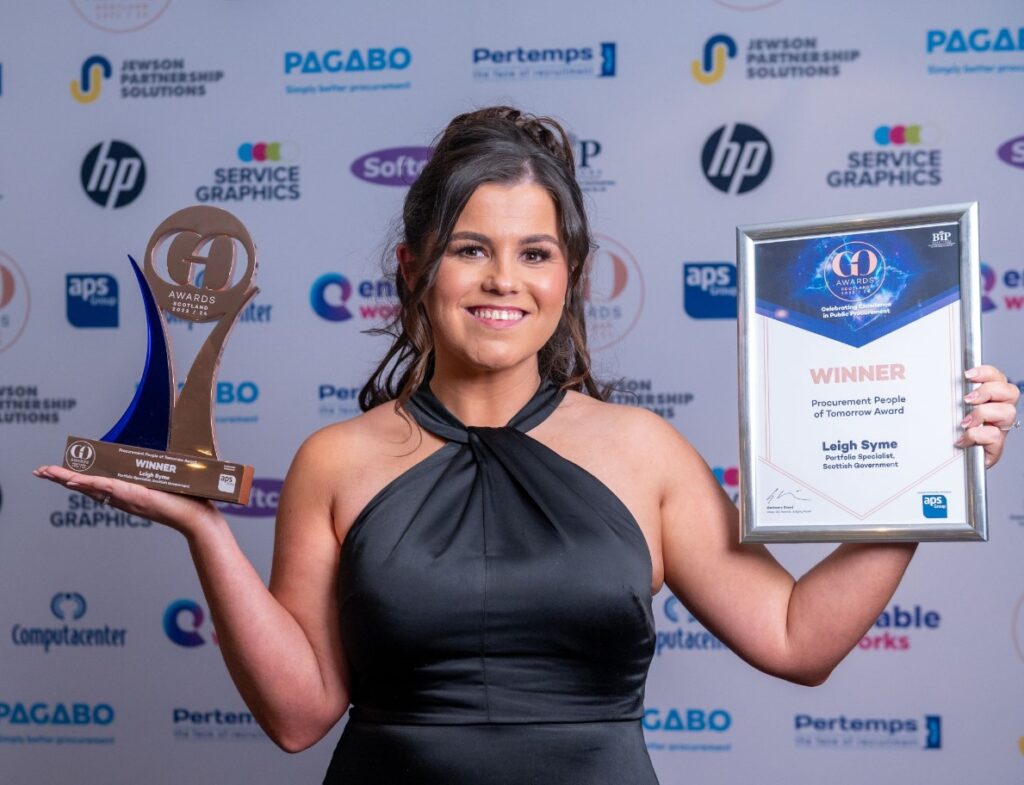 Leigh said "It is a real honour to be the first recipient of the Procurement People of Tomorrow Award. As I said on the night although the award is addressed to myself, I would not have received it without the support, guidance, time and friendship that I received from so many people across the directorate. I want to particularly thank members of the More Powers Team and the ICT Team for everything over the last 6 years."
Read more about the Procurement People of Tomorrow (PPoT) programme. 
---
For further information on public procurement in Scotland please visit www.gov.scot/procurement
Please email enquiries to scottishprocurement@gov.scot
Follow us online:
Tags: Best practice, GO Awards, GO Awards Scotland, Power of procurement
Comments