Rural and Environment
Get On Your Bike…
July 27, 2017 by admin No Comments | Category Climate Change, Environment
Daisy Narayanan, Deputy Director of Built Environment for Sustrans, explains the benefits of so called "Active Travel", reinforcing why it's a key focus for Government.
Choosing to travel actively for short, daily trips benefits more than just our health. It is good for the environment, our wallets and local economies as well.
Unfortunately, somewhere along the way, we have allowed 'unhealthy transport' to be prioritised at the expense of more active modes. Exercise is now perceived by many as a chore, rather than something fun which can be easily become part of daily life.
The work that we do through Sustrans projects and programmes enables more people to incorporate physical activity into their daily routines. We also understand, that for many, giving up the car entirely isn't realistic. However, choosing to swap the car for a bike, or for walking for short everyday trips, is.
Projects such as our Community Links programme helps to address this, by providing new or improved walking and cycling routes which connect communities in Scotland.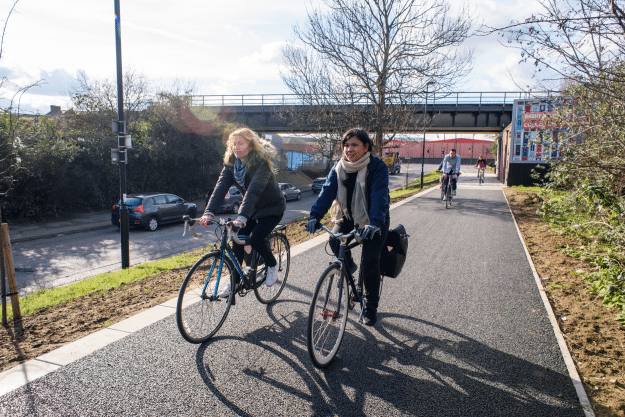 Two-thirds of people surveyed on Sustrans Community Links projects completed their 30 minutes of physical activity five or more days per week. This compares to only one in five on a national level [link: https://www.theguardian.com/society/2013/aug/10/uk-exercise-levels-low-targets-fitness] Most CL projects resulted in boosting physical activity. In fact, even the lowest reported increase in activity as a result of a Community Links project in 2015 was as high as 70%.5.
Creating safe and attractive routes for people to walk and cycle helps to reduce congestion, improve air quality and is great for local economies.
By investing in streets and spaces which make it better for walking and cycling, retail sales can be increased by a 30%. Additionally, leisure cycle tourism in Scotland is on the up. With more than 152,000 tourists visiting each year and each spending on average £62.50 a day, businesses across the country are reaping the rewards.
Travelling actively for daily journeys should be the default choice for everyone. Being active wakes up the mind and body. It makes people more alert and ready to face the day, as well as burning calories, reducing sick days, improving moods and reducing anxiety.
By making the commute to work, for example, by foot or by bike, rather than by car or public transport, it is easy to start making active travel part of a daily routine.
Small steps such as this are crucial if we are to make changes towards transforming our local communities and improving our health and wellbeing.
Environment Secretary Roseanna Cunningham visited Lambhill Stables, and their refurbished bike workshop, to talk about active travel. See the video below.
Tags: bikes, charity, environment, health, transport, travel, walk
Comments