Rural and Environment
This week: 19/07/19
July 19, 2019 by admin No Comments | Category Climate Change, Environment
Disposable cups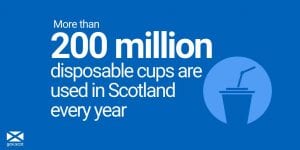 An expert panel in Scotland has issued a report recommending a charge on disposable drinks cups as a method of reducing single cup use. Environment Secretary Roseanna Cunningham said:
"Disposable cups present an obvious littering issue, but there is ever-growing awareness within our society of the impact single-use plastic has on our wider environment.
"The scale of the issue is also clear, as is the expert panel's conclusion that no one measure alone will be effective: our approach to reducing single cup use must involve a joined-up effort across government, business, communities and individuals.
"I am grateful to the expert panel for their thorough, evidence-based assessment of measures to reduce the consumption of single-use cups in Scotland. I will be giving the report's findings my full consideration and will respond to the Panel's recommendations in due course."
First Big Climate Conversation
Climate Change Secretary Roseanna Cunningham hosted The Big Climate Conversation, the first of a series of summer engagement events the Scottish Government is hosting in response to the global climate emergency.
"The Big Climate Conversation" was started to allow the people of Scotland to have their say on how Scotland responds to the global climate emergency and how we can best, as a nation, deliver the transformative changes that will be required.
The Scottish Government will be hosting a series of public workshops from July until October.
Animal welfare
A summary of responses to our consultation on proposals to increase maximum penalties, speed up process for making permanent arrangements for seized animals and giving power for fixed penalty notices has been published. The results showed that:
99.4% of respondents agree that the maximum penalties for the most serious animal welfare offences should be strengthened
96.9% of respondents agreed that the maximum prison sentence for offences against animals should be increased from 12 months to 5 years
94.1% of respondents agreed that there should be no upper limit on fines for offences against animals
79.8% of respondents agreed that legislation should be amended in regard to attacks on service animals
Read the Animal Health and Welfare consultation analysis report
Tags: animalwelfare, climatechange, environment
Comments