Rural and Environment
This week on Greener: Climate Conversations, Nature Conservations and more
August 2, 2019 by admin No Comments | Category Climate Change, Environment
Protecting Scotland's iconic brands
Rural Economy Secretary Fergus Ewing has written to the newly appointed UK Secretary of State Theresa Villiers calling on her to ensure that iconic Scottish food and drink products continue to have the necessary protections in place in the EU – deal or no deal.
The UK Government has previously indicated that Geographical Indications will maintain their protected status in Europe and associated territories regardless of the UK leaving the EU, albeit those assurances have been contradicted by DEFRA's own guidance.
Geographical Indications are used to promote and protect the names of quality agricultural products and foodstuffs, such as Scotch Whisky, Scottish Farmed Salmon and, most recently, Ayrshire Earlies.
Big Climate Conversation dates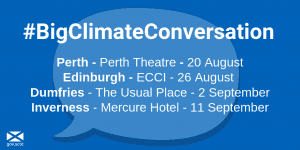 Climate Change Secretary Roseanna Cunningham announced additional Big Climate Conversation dates.
The dates and locations of the new Big Climate Conversations are as follows:
Perth – 20 August 2019
Edinburgh – 26 August 2019
Dumfries – 2 September
Inverness – 11 September
Find out more and book a place
Nature Conservation Order
Rural Affairs Minister Mairi Gougeon announced a Nature Conservation Order for the preservation of dinosaur fossils on Skye.
The key aim of the NCO is to prevent rare vertebrate fossils from being damaged through irresponsible collection and removal from Skye's globally important fossil sites. Importantly, the NCO aims to encourage local people and the wider public to take an interest in and report any potentially important fossil finds.
Mairi Gougeon said:
"Skye lays claim to the most significant dinosaur discoveries of Scotland's Jurassic past and this Nature Conservation Order is a vital step in protecting and preserving this important part of our natural heritage for future generations.
"The Order gives extra legal protection to these special sites whilst providing for important artefacts to be collected responsibly for science and public exhibition, as Dugald Ross of the Staffin Museum has been doing since his first important discovery in 1982.
"I hope the Order gives even greater awareness of the significance of these important sites, and the important and valuable role everyone has in helping protect them."
Rural policy advisory panel
Rural Economy Secretary Fergus Ewing announced the members of an advisory panel to discuss future rural policy post-Brexit.
North of Scotland tour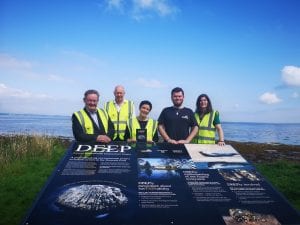 Rural Affairs Minister Mairi Gougeon embarked on a tour of the North of Scotland, including visits to Wester Ross Biosphere in Ullapool, the Scottish Dolphin Centre, the Dornoch Environmental Enhancement Project (DEEP) and national nature reserve Forsinard Flows.
Comments