Rural and Environment
Building environmental diplomacy on a Chief Scientific Advisor's research exchange
November 21, 2019 by johnfitzgerald No Comments | Category Uncategorized
By Professor Andrew Millar, Chief Scientific Advisor, Environment, Natural Resources & Agriculture
From the salt pans of the Atacama to a slice of the Antarctic, Chile stretches as far around the Earth's latitude as any other country. Its striking diversity of life was what interested the biologists in our delegation from the University of Edinburgh, who visited the country's capital Santiago in April 2019 (Figures 1 and 2). I work as a Professor in the University's School of Biological Sciences, on the two days per week when I am not seconded to the Scottish Government as Chief Scientific Advisor (CSA) for the Environment, Natural Resources and Agriculture. By extending this trip with my CSA time, I was able to visit two Chilean ministries and a research collaborator of the Royal Botanic Gardens, Edinburgh (Figure 3). We talked through many mutual interests, and among the possible links, our idea for a joint Scottish-Chilean government workshop on peatland restoration emerged, which has since been accepted as a side event at the UNFCCC COP25 meeting in Madrid in early December 2019.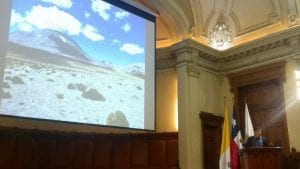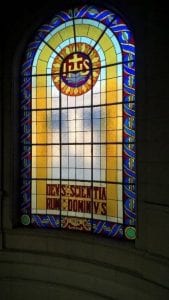 Above (left) Science talks at the EMBO workshop on biology in extreme environments. Professor Rodrigo Gutierrez, our host in Chile, introduces his work on how native plants survive in the high-altitude Atacama desert of Northern Chile.
Above (right). An ambiguous motto at the Pontifical Catholic University in Santiago, Chile. "Deus scientiarum dominus" is drawn from an Apostolic Constitution of 1931. It can be translated in several ways but none involves the sciences, because the modern concept of science is apparently not present in Latin. "God, the master of wisdom" or "God is a wise God" have been used.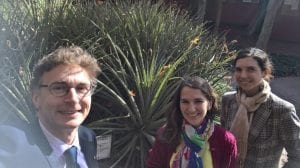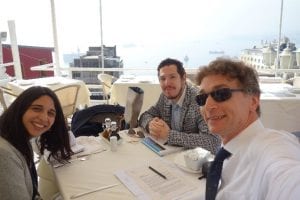 Above (left): Scotland's global network of science collaborators. I was hosted by colleagues at the Chagual Botanic Gardens collaborator of the Royal Botanic Gardens, Edinburgh, and the spiny chagual plant that gives the garden its name.
Southern Chile has a large area of peatland in the Magellanic moorland, where the country's climatic zones pass through a region with similarities to Scotland, including sheep farming and salmon aquaculture. My first stop in Chile was following up an ongoing discussion of aquaculture opportunities with the Chilean Under-secretariat of Fisheries in the port city of Valparaiso, once the first major stop after ships from Europe had rounded Cape Horn. The UK embassy staff, sometimes acting as guides (see Figure 4) and sometimes as expert translators, took me from there to the Ministry of the Environment (Ministerio del Medio Ambiente), where it was Scotland's management of peatland that caught our hosts' attention.
Above (right). Between meetings with the diplomatic support for science. The Science and Innovation Network at the UK Foreign and Commonwealth Office provides science support through the UK embassies. Its officers in Santiago Drs. Daniela Sandoval (left) and Alvaro Cabrera (centre) are recapping our meeting with Fisheries colleagues, in a coffee shop overlooking Valparaiso harbour.
Scottish peatlands are one of the UK's major carbon stores, with 1600 megatonnes of carbon. The water-soaked, compressed vegetation that makes up peat doesn't lock in carbon like a lump of coal. If the peat dries out, all that vegetable matter starts to rot, releasing carbon dioxide back to the atmosphere. Our huge peatland carbon store becomes an equally big problem for the global climate emergency. Peatland restoration aims to stop the ongoing carbon release, by re-wetting peat that has been drained and keeping any undisturbed peat (just a quarter of Scotland's peatland area) in good condition. In addition restored peatland can slow down surface water flows, reducing the risk of flooding and allowing more even hydro-electricity generation, as well as potentially improving biodiversity.
Scottish Natural Heritage has run the Scottish Government funded Peatland ACTION project since 2012, working with a number of partners in the public, private and third sectors to restore 19,000 hectares of peat in total. This year, the Scottish Government announced £14M funding for peatland restoration in 2019/20. Under Scotland's existing climate change plan, we already have the target of restoring 250,000 ha of peatland by 2030. The CCC report sets out the important contribution that peatland restoration can make in Scotland achieving its target of reaching net 0 emissions by 2045. Scottish Ministers will be considering this, alongside others options, as part of any required update to the existing climate change plan in the future. The new collaboration with the Chilean government aims to share ideas and approaches to deal with this massive challenge, so that we safely steward the carbon in our peatland. This year's events will build on strong Scottish foundations. COP26 next year in Glasgow offers a fantastic opportunity to continue these international collaborations.
For more detail on Scotland's peatlands:
Virtual visit at the Flow Country website https://www.theflowcountry.org.uk/
SNH Peatland Action https://www.nature.scot/climate-change/taking-action/peatland-action
Scottish soil carbon report from CXC, 2018 https://www.climatexchange.org.uk/media/3046/soil-carbon-and-land-use-in-scotland.pdf
UK peatlands report led by CEH and JHI in 2017 https://uk-air.defra.gov.uk/assets/documents/reports/cat07/1904111135_UK_peatland_GHG_emissions.pdf
Chief Scientific Advisor, Environment, Natural Resources & Agriculture:
Professor Andrew Millar, FRS, FRSE provides independent science advice on issues such as the environment, agriculture and the wider rural economy and champions the use of evidence to inform policy development and delivery. This is a part-time position (3 days a week) and Professor Millar retains an academic position at the University of Edinburgh.
The views and opinions expressed and material contained in this blog are those of Professor Andrew Millar they do represent the official views or policies of the Scottish Government.
https://www.gov.scot/about/how-government-is-run/directorates/environment-and-forestry/chief-scientific-adviser-environment-nat-resources-agriculture/
Comments