Scotland's Economy
Tourism – the next generation
March 2, 2012 by Fergus Ewing MSP No Comments | Category Tourism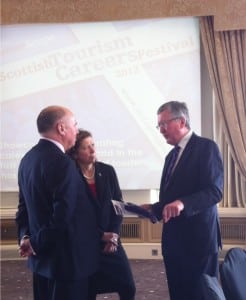 Tourism is very important for the Scottish economy and we need a constant supply of fresh talent to maintain the excellent worldwide reputation that we have in the hospitality sector.
There is great potential to build a rewarding career in this fun, vibrant and fast moving industry and at a conference held in The Gleneagles Hotel this week I had the opportunity to learn more about a how the industry is trying to attract more young people to get involved.
The UK charitable body Springboard, which has a strong presence in Scotland, is playing a leading role in this. Their Chief Executive, Anne Pearce told me about some of the information events that they run at schools to let our teenagers experience life as a chef or a hotel manager.
Among the examples was the Highland Perthshire discovery scheme where S4 and S5 pupils go on a days tour of attractions such as Pitlochry Theatre, Dewar's Whisky Centre and have an explanation of what the work involves.
I was also really impressed by the Springboard Ambassadors – who take the time to visit schools to explain and demonstrate their work.
Skilled people are at the heart of any successful business and the development of the skills agenda is essential to make sure that Scotland maximises the opportunities from the globally important events of the next three years, including Olympics 2012, the Year of Creative Scotland 2012, the Year of Natural Scotland 2013, Ryder Cup 2014, the Commonwealth Games in Glasgow and Homecoming 2014.
Hospitality already has the highest number of New Start Modern Apprentices for 2010 – 11 and I am looking at how we can build on this for the future benefit of our young people and one of our most significant industries.
Tags: Commonwealth Games, Homecoming, Olympics, Ryder Cup, Springboard Ambassadors
Comments