Scotland's Economy
This week – 5/10/18
October 5, 2018 by paulobrien No Comments | Category Uncategorized
Scottish Budget date
The 2019-20 Scottish Budget will be presented to the Scottish Parliament on Wednesday 12th December. The Finance Secretary will outline spending plans for 2019-20 – delivering a budget that will grow our already strong economy and labour market and protect our vital public services, including education and the NHS.
Shetland released from the box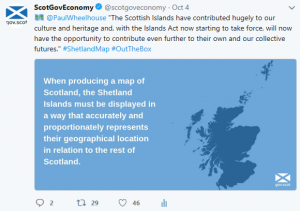 The historic Islands (Scotland) Act began to take effect this week. It addresses the particular opportunities and challenges for island communities and means the creation of a National Islands Plan. On a more visual front, it ensures Shetland will no longer be 'boxed off' on maps. When producing a map of Scotland, the Shetland Islands must be displayed in a way that accurately and proportionately represents their geographical location in relation to the rest of Scotland. Paul Wheelhouse, Minister for Energy, Connectivity and the Islands said: "The Scottish Islands have contributed hugely to our culture and heritage and, with this Act now starting to take force, will now have the opportunity to contribute even further to their own and our collective futures."
Grants to start e-bike revolution
Nineteen public sector organisations and community groups across Scotland are to share £470,000 from the first E-bike Grant Fund. The successful applicants were announced by Cabinet Secretary for Transport, Infrastructure and Connectivity Michael Matheson during Climate Week as part of the Scottish Government's plans to encourage widespread e-bike adoption. The fund has been so successful that the Scottish Government has made an extra £250,000 available to support a second round of applications.
Young Scots champion digital rights at first youth summit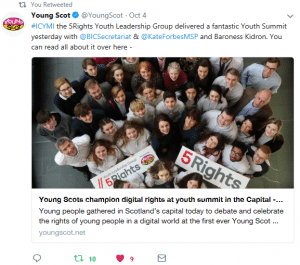 A group of young leaders met with Minister for Public Finance and Digital Economy, Kate Forbes MSP in the first Young Scot 5Rights summit to celebrate their work in championing the rights of young people in a digital world. Kate Forbes said: "It is more important than ever, in this, the year of young people, that the voices and opinions of our young people in Scotland are heard and respected. The 5Rights summit is a fantastic opportunity for the youth leaders to take the 5Rights agenda forward for Scotland and beyond."
Comments