Scotland's Economy
This week – 28/09/18
September 28, 2018 by taylorscott No Comments
Digital Improvement Pilot
Cupar will become a Digital Improvement District, a first for Scotland, fulfilling the Programme for Government commitment to fund a business improvement district dedicated to digital improvement. It will soon have town centre WiFi and act as a potential model for future small town designs.
This innovative approach will trial and showcase a potential model for smaller town use, while enabling Cupar's businesses and their local partners to build digital technologies, introducing town centre WiFi, a 'digital brand' and website for their town. It will also provide digital skills support, including effective social media use.
Connectivity Secretary Michael Matheson said:
"This is another exciting step towards achieving our vision for improved connectivity in Scotland. The pilot enables Cupar to showcase its digital capabilities, ultimately demonstrating the need for smart towns as well as smart cities, using a sustainable tailored model."
Cyber Resilience Economic Opportunity Action Plan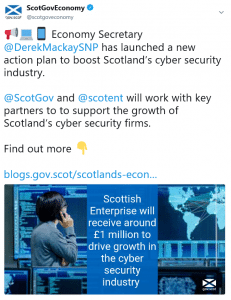 This week Economy Secretary Derek Mackay launched a new action plan to boost Scotland's cyber security industry.
Scottish Enterprise will receive just over £1 million to drive growth in the cyber security industry, including £370,000 for the creation of a cluster management organisation, £500,000 for a Cyber Essentials voucher scheme for small and medium-sized third and private sector organisations and £250,000 to stimulate cyber-specific innovation.
Economy Secretary Derek Mackay said:
"The Cyber Resilience Economic Opportunity Action Plan sets out the key practical steps the Scottish Government and key partners will take collectively to support the growth of Scotland's cyber security firms. It aims to encourage the development of innovative cyber security research and deliver world-leading cyber security goods and services.
"As the cyber threat increases, demand for cyber security goods and service increases. There is an opportunity for Scotland's cyber security businesses to reap the benefits of this growing demand."
Inward investment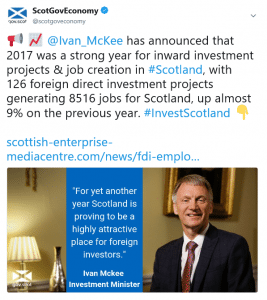 Ivan McKee, Minister for Trade and Investment, announced that 2017 was a strong year for inward investment projects and job creation in Scotland, with 126 foreign direct investment (FDI) projects generating 8516 jobs for Scotland, up almost 9% on the previous year.
Ivan McKee said Scotland is proving to be a highly attractive place for foreign investors.
He said: "Investors are attracted to Scotland for many reasons. Access to a skilled and educated workforce, a supportive business environment and competitive tax rates and property and salary costs all play a crucial role – as does the bespoke support provided through our public sector bodies. It adds up to an attractive package that not only secures new investment in Scotland, but helps to retain and grow our existing investors."
Renewable electricity continues to grow
Figures published this week found that renewable electricity generation in Scotland has increased from 12,194GWh in the first six months of 2017 (which was a record year) to 12,421GWh for the same period in 2018.
Energy Minister Paul Wheelhouse said:
"These figures show Scotland's renewable energy sector continues to grow with more projects coming online with 8% growth over last year, and a strong pipeline of further projects and output of electricity continuing to grow since 2017."
Future Trade Deals
This week Trade Minister Ivan McKee and Constitutional Affairs Secretary Michael Russell lead a debate on Scotland's role in future trade deals.
Read this Twitter thread to find out why we believe it is in the best interests of Scotland, and the whole of the UK, for the Scottish Government to have a guaranteed role in future trade negotiations.
A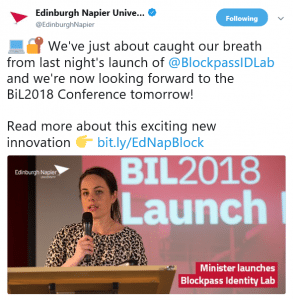 ction to tackle cyber threats
Digital Economy Minister Kate Forbes opened the new Blockpass Identity Lab. Built at Edinburgh Napier as part of a £600,000 collaboration with Blockpass IDN, the blockchain-based identity application provider for regulated services and the Internet of Things, the Lab will explore ways to protect personal data from online scammers and hackers.
Kate Forbes said:
"This exciting work to explore how blockchain technology can protect personal data from online scammers and hackers carries on the tradition of innovation and excellence exemplified by John Napier, the Scottish mathematician who is best known for his invention of logarithms and who is credited with bringing the decimal point into common use."
Comments