Scotland's Economy
This week 2/11/18
November 2, 2018 by charlottebarbour No Comments
Introducing the business rates cap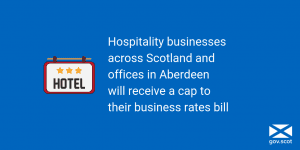 Hotels across Scotland and offices in Aberdeen are amongst those who will benefit from a cap to their business rates bill following an announcement by Public Finance Minister Kate Forbes.
Having already benefited from the cap in 2017-18 and 2018-19, hospitality businesses will now see rates capped at a maximum of 12.5% in real terms each year until 1st April 2022. Offices in Aberdeen and Aberdeenshire will also see any rise capped at 12.5% in real terms, in recognition of the effect the fallen oil price has had on the local economy.
Ocean Energy: Scotland's achievements and future ambitions 
Energy Minister Paul Wheelhouse spoke at Ocean Energy Europe's conference, highlighting the Scottish  Government's ongoing support for the marine energy sector, and Scotland's achievements in marine renewables. The conference welcomed over 400 industry professionals from over 20 countries.
Statistics published this week by Scotland's Chief Statistician Gary Gillespie show that the Scottish Government's  Small Business Bonus Scheme provided £254million in rates relief to almost 119,442 businesses in 2018-19.
Read more here.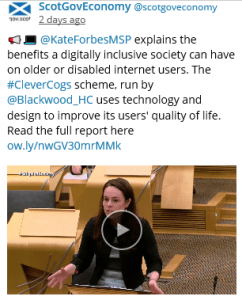 Digitally inclusive society
Minister for Public Finance and Digital Economy explains the benefits a digitally inclusive society can have on older  or disabled internet users.
The CleverCogs scheme, run by Blackwood Homes and Care, uses technology and design to improve its users' quality of life.
Read the full report here.
Comments