Scotland's Economy
This week 30/11
November 30, 2018 by charlottebarbour No Comments
Fairer Deliveries For All action plan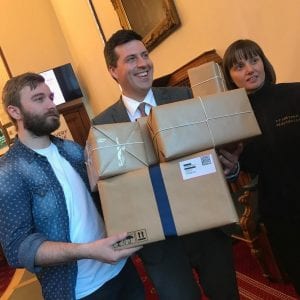 Business Minister Jamie Hepburn launched the Fairer Deliveries For All action plan this week as part of the Scottish Government's commitment to tackling unfair parcel delivery charges.
Export Challenge
Trade Minister Ivan McKee launched the Scottish Government's Export Challenge with CBI Scotland. The Scottish Government and CBI Scotland will drive Scotland's export potential through business to business mentorships.

Big Data
"The use of 'Big-data' to address the challenges we face, both locally and globally, is a real opportunity we must truly embrace", said Digital Economy Minister Kate Forbes at the Urban Big Data relaunch in Glasgow.
Scottish National Investment Bank
The Scottish Government published the responses to the Scottish National Investment Bank consultation. Economy Secretary Derek Mackay spoke of his intention to develop the Bank's guiding principles.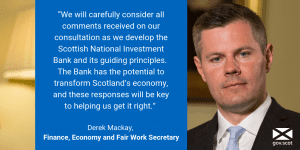 Northern Isles Ferry Investment
Passengers using the Northern Isles Ferry Services are set to benefit from improved on board facilities with investment worth more than £2 million from the Scottish Government.
The programme of upgrades will include the introduction of 66 new sleeping pods on each of the Aberdeen vessels, along with new cinemas, shops, games areas, and entertainment zones for younger travellers.
Tags: data, delivery, economy, export, exporting, fairerdeliveries, transport
Comments