Scotland's Economy
This week: 14/12/18
December 14, 2018 by charlottebarbour No Comments | Category Budget, Economy, Investment
Budget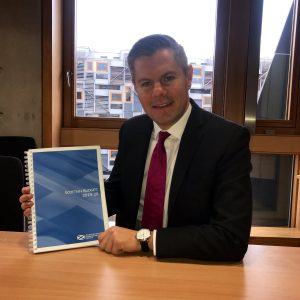 Economy Secretary Derek Mackay presented the Scottish Government's 2019-20 spending plans to the Scottish Parliament.
Mr Mackay said the budget will seek to strengthen Scotland's economy and deliver long term investments to transform public services.
Labour Market stats
Labour Market Statistics, published this week show that:
2,633,000 people are now in work in Scotland
Unemployment in Scotland fell to 3.7%, the lowest rate on record
Scotland's female employment rate is 71.3%, higher than the UK rate of 71.2%
Scotland's youth employment rate is 58.8%, higher than the UK rate of 55.9%
Business Minister Jamie Hepburn said the Scottish economy and jobs market remain strong despite the continued challenges of Brexit.
Building Scotland Fund 
Public Finance Minister Kate Forbes visited Strathclyde Business Park to announce £25 million from the Building Scotland Fund to support SPRUCE (Scottish Partnership for Regeneration in Urban Centres). She met with Fusion Assets Ltd and City Link Development.
Fairer Scotland for Disabled People: Employment Action Plan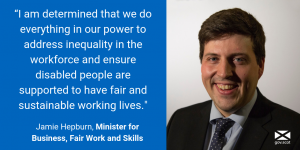 More disabled parents will be helped into work following an additional £6 million aimed at reducing both the disability employment gap and child poverty. Fair Work Minister Jamie Hepburn announced the Disability Employment Action Plan
A9 dualling
Two consecutive sections of the A9 to be dualled are included in the last of the latest series of ground investigation contracts for the A9 Dualling programme awarded today.
Michael Matheson, Cabinet Secretary for Transport, Infrastructure and Connectivity said: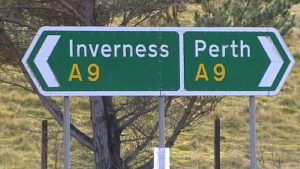 "The A9 Dualling programme between Perth and Inverness is one of the largest and most challenging infrastructure projects in Scotland's history.
"With ground investigation works already underway on a number of sections of the route, these latest ones starting next month will help inform the design work for the neighbouring schemes stretching from Glen Garry to Crubenmore totalling over 17 miles."
AWPR opening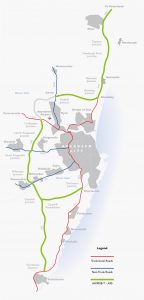 The Craibstone to Stonehaven and Charleston section of the Aberdeen Western Peripheral Route (AWPR) opened early on the morning of Wednesday 12 December.
This significant new section of road, which includes the A90 between Stonehaven and Craibstone and the A956 between Cleanhill and Charleston, will give north east road users access to around 20 miles (32km) of new road – read more here.
A series of traffic management measures will be put in place to enable the AWPR contractor to open the Craibstone to Stonehaven and Charleston section of road on Wednesday 12 December.
These include measures to safely guide traffic from the new A90 at Craibstone, a temporary route between Craibstone and Blackdog Roundabout and overnight lane closures in advance of the road opening to traffic – read more here.
Road users are being encouraged to drive with extreme caution on all north east roads while they become accustomed to the new A90 and new road layouts – read more here.
Tags: economy, emplyoment, scottishbudget
Comments