Scotland's Economy
This week: 01/2/19
February 1, 2019 by charlottebarbour No Comments | Category Economy, Energy
Stage 1 budget debate
Yesterday's debate at parliament saw stage one of the budget passed with health services, the economy and public services benefiting from more than £2 billion of additional spend.
As he confirmed an agreement had been reached that will see the Scottish Budget passed at all stages by the Scottish Parliament, Finance Secretary Derek Mackay outlined a package of reforms at stage one of the Budget Bill, hailing the proposals as a 'substantial devolution of power to local government'.
The Finance Secretary also confirmed the Scottish Budget will provide an additional £90 million to support local government and as well as further flexibility and increased income from council tax. Taken together this enhanced package offers up to £187 million of increased funding and flexibility to councils.
International exports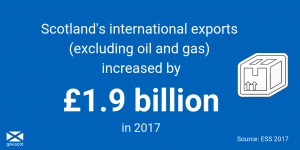 Economy Secretary Derek Mackay was at Nairns Oatcakes in Edinburgh this week to welcome Scotland's latest export stats.
International exports (excluding oil and gas) increased by £1.9 billion to £32.4 billion in 2017, the highest annual growth rate (6.2%) since 2011.
The rise, revealed in the National Statistics Publication: Export Statistics Scotland (ESS) 2017, was driven by an increase in manufacturing exports, including food and drink, while exports of services also increased.
Offshore conference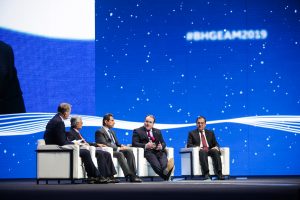 Energy Minister Paul Wheelhouse spoke at Scottish Renewables offshore conference at the University of Strathclyde's Technology and Innovation Centre.
"A strong collaborative effort between the Scottish Government and industry is required to ensure that our vision for offshore wind in Scotland is achieved", Mr Wheelhouse said, "and we maintain our world leading position as innovators and first movers in the global market."
Big Hearts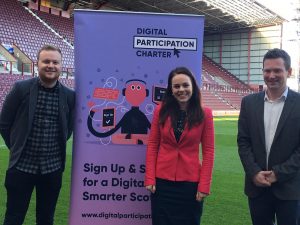 The SCVO Scotland's Digital Participation Fund supports valuable community projects offering assistance to tackle digital exclusion.
Public Finance and Digital Economy Minister Kate Forbes attended the launch at Tynecastle Stadium.
IBioIC
Minister for Trade, Investment and Innovation Ivan McKee announced the launch of the refreshed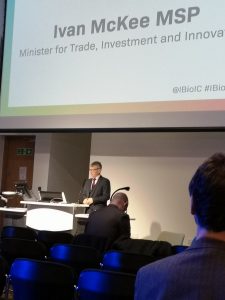 National Plan for IB at #IBioIC19's Day 2 morning plenary.
Comments