Scotland's Economy
This week: 15/02/19
February 15, 2019 by charlottebarbour No Comments | Category Economy
State of the Economy
Scotland's Chief Economist, Gary Gillespie, published his State of the Economy Report in which he warns that intensifying Brexit uncertainty is causing concern and is already impacting key economic indicators in Scotland.
SNIB consultation analysis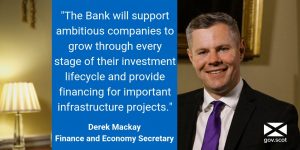 This week saw the first of many milestones for the Scottish National Investment Bank in 2019 as the analysis of last year's public consultation is published.
Finance Quadrilateral
Finance Secretary Derek Mackay travelled to Cardiff to meet with Welsh Finance Minister Rebecca Evans and Chief Secretary to the Treasury Liz Truss.
Mr Mackay said:
"Today's meeting is an opportunity for the UK Government to provide much needed clarity around future funding as well as details on what support will be made available to help protect Scotland's economy against the consequences of the UK's exit from the European Union."
E-bikes
The second round of the highly successful eBike Grant Fund will see 27 organisations and community groups across Scotland share over £462,000.
Cabinet Secretary for Transport, Infrastructure and Connectivity Michael Matheson said:
"This is an incredibly popular fund and I'm proud that this government can support a further 27 e-bike projects across Scotland in its second round.
"There are so many benefits to e-bikes and e-cargo bikes, but for many, the latest advances in e-mobility technology remain unaffordable. While we all anticipate price drops in the future, I'm committed to ensuring that people can access and experience e-bikes in their communities, so that we increase opportunities for people to switch to sustainable, affordable and exciting modes of transportation.
"If your route is longer or involves hilly terrain, e-bikes offer as much assistance as you need, whether you are commuting, delivering or just enjoying some time outdoors.
"We've maintained our record funding for active travel and we will continue to develop innovative projects to build an Active Nation, where more people can enjoy the benefits of walking and cycling than ever before."
World Manufacturing Forum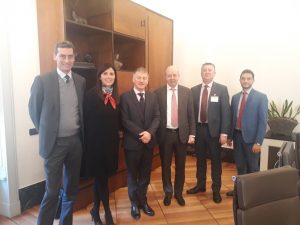 Trade, Investment and Innovation Minister Ivan McKee travelled to Italy to attend the World Manufacturing Forum, meeting with key manufacturing figures to gain insight into the Italian market and development of world class manufacturing industry and discuss potential opportunities for collaboration.
Tidal Fund
Energy minister Paul Wheelhouse has opened a £10 million fund to support tidal energy generation in Scottish waters.
Tags: economy, stateoftheeconomy
Comments