Scotland's Economy
This week: 19/4/19
April 18, 2019 by charlottebarbour No Comments | Category Economy
Labour Market Statistics
Scotland's Labour Market statistics from December 2018 to February 2019 showed:
2,688,000 people are now in work in Scotland
Scotland's employment rate rose by 0.3 p.p. over the quarter  to 75.6%
Unemployment in Scotland fell to 3.3%, the lowest rate on record
Scotland's youth employment rate is 59.5%, higher than UK rate of 55.1%
Unemployment rates for Scotland's women (2.8%), men (3.8%) and young people (7.2%) are lower than the UK
Unemployment rates in Scotland (3.3%) are lower than the UK (3.9%) for the seventh month in a row
Scotland's unemployment rate for men at 3.8% is the lowest on record and below the UK rate of 4.1%
(ONS: December 2018 to February 2019)
Read more on Labour Market Statistics
STUC
First Minister Nicola Sturgeon addressed the 122nd annual STUC congress this week. The First Minister's speech set out the Scottish Government's support for fair work and the economy in the face of EU exit uncertainty.
Ireland visits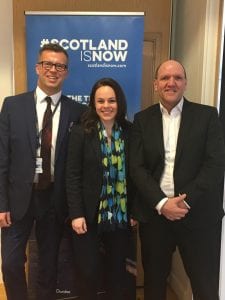 As part of the Scottish Government's development of a strategic integrated plan, Digital Economy Minister Kate Forbes visited Ireland to seek to work collaboratively with Irish partners to enhance Scotland's fibre connectivity capabilities.
Launch of new Broadband cabinet
Connectivity Minister Paul Wheelhouse visited the National Electricity Control Centre to help support a wider understanding of our work to manage the electricity network in Scotland.
A77 route
A major infrastructure contract to improve the vital South West A77 route has been awarded and will bring added economic benefits during construction, national transport agency Transport Scotland has announced.
Wills Bros Civil Engineering Limited has been awarded the £31.5m construction contract to build the Maybole Bypass on the A77.
Michael Matheson, Cabinet Secretary for Transport, Infrastructure and Connectivity said:
"The local community will benefit from opportunities created for small and medium enterprises to bid for subcontractor roles and the provision of at least four vocational and seven professional, site-based training opportunities. The contractor anticipates that the project could employ up to 165 people, during the months of peak construction activity, a number of which are created by the project."
Read more on the new A77 route
GLA380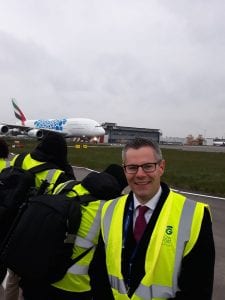 Finance Secretary Derek Mackay joined the press as Glasgow Airport welcomed the first passengers on the new regular A380 Emirates service.
Tags: broadband, labourmarketscotland, lms, STUC
Comments