Scotland's Economy
This week: 14/6/19
June 14, 2019 by admin No Comments | Category Economy, Employment
Labour Market Statistics
Scotland's unemployment rate fell again, to 3.3%, lower than the UK for the ninth month in a row. Statistics out this week also showed that Scotland's employment rate rose to 75.9%, the highest on record.
Read more about Scotland's labour market statistics
Modern Apprentices
The number of apprentices benefitting from work-based learning has risen for the eighth consecutive year, according to the latest set of statistics by Skills Development Scotland.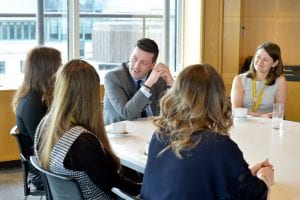 Skills Minister Jamie Hepburn said:
"These are very encouraging figures. They demonstrate we are continuing to meet our targets and progress towards 30,000 new apprenticeship starts by the end of financial year to 2020. Scotland's apprenticeship programmes continue to go from strength to strength with 29,000 places available next financial year, meaning even more people can access a wide variety of work-based learning.
"Apprenticeships are a fantastic way for all employers to invest in their workforce, and provide the skills the economy needs both now and in the future."
Read more about apprenticeship statistics
Rural Skills Action Plan
A new strategic approach to support the skills needs of rural Scotland was launched by Rural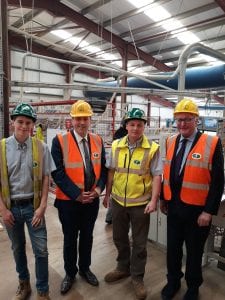 Economy Secretary Fergus Ewing and Skills Minister Jamie Hepburn.
The Skills Action Plan for Rural Scotland aims to address skill shortages, talent retention and attraction, and demographic challenges, through enhancing work-based learning and increasing access to education and skills provision.
Read more about the rural skills plan
Scottish Annual Business Statistics
The latest figures from the Scottish Annual Business Statistics show that tourism, food and drink and the creative industries are among the sectors to have grown over 2016-2017.
The statistics show an improved performance for the majority of growth sectors within Scotland's non-financial business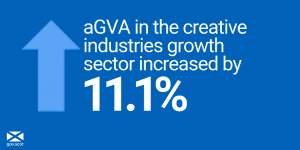 economy. Increased approximate Gross Value Added (aGVA) was shown in the creative industries sector (11.1%), the food and drink sector (6.3%) and the tourism sector (6.0%).
Read more about the Scottish Annual Business Statistics
Moorfield Business Park
Infrastructure Secretary Michael Matheson formally opened Moorfield Business Park in Kilmarnock this week. The business park is helping companies in the area to thrive and expand through an ambitious programme of building and development being delivered by East Ayrshire Council.
The business park will be further supported with £12 million of funding through the Scottish Government's overall £103 million commitment to the Ayrshire Growth Deal.
Tags: modernapprentices, ruralskills, scotlandslabourmarket
Comments