Scotland's Economy
Internet of Things, E-Bikes and GDP
August 9, 2019 by admin No Comments | Category Economy
Economic Growth
Statistics published this week showed that the Scottish economy grew by 0.6% during the first quarter of 2019. Economy Secretary Derek Mackay said the months and years ahead were crucial as the UK's EU Exit, and in particular a 'no deal' Brexit, risks damaging Scotland's economic growth. He said: 
"Growing the economy is a priority for the Scottish Government and these results show the actions we are taking are working. Scotland's economy continues to perform well, with GDP growing faster than the UK during the first quarter of 2019 and unemployment at a near record low.
"As a responsible government we are continuing to plan and prepare for all EU exit possibilities, but we know that we will not be able to mitigate all of the impacts. The Scottish Government has a range of policies in place to support households and business and we will continue to do what we can to mitigate further uncertainty over the UK's EU exit. The Scottish Government has consistently been clear that the best option for the future wellbeing and prosperity of Scotland is to stay in the European Union."
Wick and Thurso
Business, Fair Work and Skills Minister Jamie Hepburn carries out a series of visits in Wick and Thurso as part of his summer tour. These included visits to Wick Jobcentre Plus Office and Inside Biometrix in Dingwall.
Internet of Things
Connectivity and Infrastructure Secretary Michael Matheson visited Crookston Castle in Glasgow to learn more about the Internet of Things and see some of the new technology in practice.
Read more about Internet of Things at Crookston Castle
E-Bike project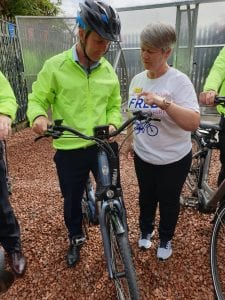 Transport Secretary Michael Matheson visited ShareLab Scotland's Inverclyde Community Development Trust E-Bike project in Greenock. He said:
"The Scottish Government believes that there is huge potential for the collaborative sharing economy to contribute to a fairer, more socially and environmentally responsible economy in Scotland.  That is why we have invested £238,000 to deliver the ShareLab Scotland programme. Concluding this November, we will share key lessons and challenges in delivering collaborative economy initiatives at a local level, in order to support future innovation in this sector.
"In May this year we also announced £1.14 million for the eBike Grant Fund, delivered by Energy Saving Trust, to provide grants to community organisations, local authorities, public sector agencies, colleges and universities. This fund will allow people across Scotland to access the benefits of e-bikes in an affordable way."
Read more about the E-Bike project
Levenmouth rail investment
The reopening of the link to Levenmouth and the rail network is to be taken forward to the next stage of development alongside new bus and active travel provision, following an assessment of transport links in the area.
Transport Secretary Michael Matheson said:
"I am extremely pleased that the case has been made for the Levenmouth rail link and I look forward to seeing this project being taken forward to the next stages of design.
"The detailed appraisal work that has been carried out suggests that improved transport links, which give Leven a direct rail link to the capital, will lead to an enhanced local economy, bringing better access to employment and education and the potential for new investment. Easier and more sustainable travel options will make it easier for people to reach hospitals, schools and visit other areas of the country as well as giving better access to Levenmouth."
Read more about the Levenmouth rail investment
Comments