Scotland's Economy
Paul Wheelhouse on Scotland's energy sector
December 11, 2019 by Alan Bannon No Comments | Category Energy, Uncategorized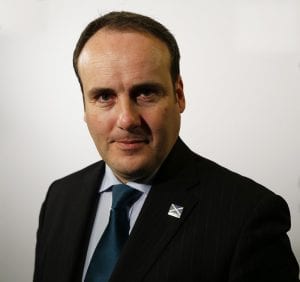 This year was a significant one for Scotland's energy sector, most notably with the Scottish Government declaring a climate emergency, and outlining our commitment to become a net-zero emissions economy and society by 2045.
Our Programme for Government (PfG) outlined the key role renewable energy sources will play in reducing emissions and decarbonising Scotland's transport systems. The PfG also illustrated the importance of continuing our work to boost Scotland's energy supply chain. That means exploring every possible option to help put Scottish businesses in a stronger position to secure contracts, and pressing the UK Government to work with us in securing this outcome.
In February, we launched Scotland's £10 million Saltire Tidal Energy Challenge Fund, to support commercial deployment of tidal energy generation in the absence of UK Ministers providing a route to market for the technology. In the first award under the Fund we supported Orbital Marine with £3.4 million to help to construct the world's most powerful 2MW tidal turbine, capable of powering more than 1,700 homes per year. The Scottish Government provided a further £10 million to the Wave Energy Scotland programme, taking our total level of support to the wave energy sector to nearly £40 million since 2014.
BEIS statistics for 2018, indicated that a record 76.3% of Scotland's electricity demand could be met from renewable sources and installed capacity grew by more than 11% in the year to June 2019.
In March of this year we awarded £13.4 million to enable low carbon projects as part of our £60 million Low Carbon Infrastructure Transition Programme, which was set up to support three priority areas outlined in Scotland's Energy Strategy: low carbon heating solutions, integrated energy systems and ultra-low emission vehicle infrastructure schemes.
In May we hosted an offshore wind summit, bringing together trade unions, offshore wind developers, and supply chain companies to find solutions for Scottish companies to benefit from the awarding of contracts for offshore wind projects. Although some progress was made, the sector was dealt a blow months later when the UK Government announced its Contract for Difference (CfD) awards, which gave the lion's share of available contracts to two major projects in England. Six Scottish projects also successfully applied, and the largest project in England will be led by a team based in Glasgow, but serious questions were raised as to whether Scotland's allocation would be enough to secure our key objective of islands transmission links in the near future. I've been speaking with SSEN and our island stakeholders to discuss where we go from here, and to reiterate to them, and Ofgem as the UK-wide regulator, our unstinting support for these links which will be transformational for the islands' economies.
In July, the Beatrice offshore windfarm opened and we continue to work to make Scotland an even more attractive place to invest in offshore wind energy developments. We will soon publish a new Sectoral Marine Plan covering offshore wind energy opportunities, alongside a new Offshore Wind Policy Statement. Together, these outline our ambition for offshore wind, providing the planning and policy context for Crown Estate Scotland's forthcoming Scotwind leasing round, and the steps we will take to secure maximum development and economic benefit from this sector.
The decommissioning of North Sea infrastructure is an integral part of Scotland's Energy Strategy, which recognises that the process can provide significant economic opportunities for the industry's
supply chain. In July I announced that the award of a further £4 million to help maximise the economic benefits to Scotland from that process, on top of £10 million previously committed.
In September we announced £30 million to create low-carbon heating infrastructure projects, the importance of which is demonstrated by estimates that heating accounts for more than 50% of our energy consumption and Scotland's homes are responsible for the emission of  six million tonnes of harmful carbon dioxide into our atmosphere every year – that's 15% of all of Scotland's annual emissions. That funding will be used to create projects that can demonstrate innovative and low carbon ways of heating our buildings, as well as supporting industrial projects focused on reducing greenhouse gas emissions.
We also committed to introducing a Heat Networks Bill in 2020 that will draw upon the extensive work undertaken to provide a regulatory and licensing regime for heat networks, with potential to tackle fuel poverty and deliver lower emissions.
In the same month we announced our intention to require all new-build homes to use renewable or low-carbon heat consented from 2024.
The PfG also outlined our aim to put carbon reduction ambitions at the heart of the Scottish National Investment Bank's work, as well as the intention to bring to market a £3 billion portfolio of projects, including renewables, waste and construction, that will be ready for 'green finance' investment – demonstrating again how our climate ambitions have permeated every area of government. We also continue to explore, with our local government partners, options to deliver a public energy company for Scotland within this session of Parliament.
In October I announced that, after careful consideration, the Scottish Government found the extraction of unconventional oil and gas, including 'fracking', to be incompatible with our environmental ambitions and climate change policy, which is why Scotland's planning framework will not support its development and we will not issue any new licenses for that activity.
Moving forward, our next Energy Statement will set out the extent to which renewable and low carbon energy generation will need to combine in order to meet our net zero ambitions. We are developing similar plans to consider the necessary contributions across the electricity and wider energy system to help deliver a net zero future.
All of this forms part of a wider review of targets and policies across each of the key sectors of the economy to inform our updated Climate Change Plan and we will update our Energy Strategy to reflect the scale of ambition set out in the Plan.
Tags: carbon emissions, climate change, energy, oil and gas, paul wheelhouse
Comments