Scotland's Economy
Labour market statistics update – Business Minister Jamie Hepburn
May 19, 2020 by Jenny Kane No Comments | Category Economy, Employment, Uncategorized
Between January and March 2020, Scotland's employment rate estimate fell over the quarter to 74.7% and the unemployment rate estimate rose over the quarter to 4.1%. While these rates compare well against historical records, they do not reflect fully the unprecedented impact of the pandemic and how it will change over time. The Job Retention Scheme will have offered some relief to many employers and employees, but I am aware many will be deeply concerned about the future of their livelihoods.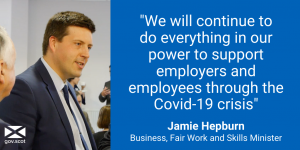 We are acutely aware of the huge impact the lockdown measures are having on people and businesses throughout the country. However, these measures are vital for controlling the coronavirus outbreak, saving lives and protecting the NHS.
The Scottish Government has already provided £2.3 billion in support to businesses and livelihoods, and we will continue to do everything in our power to support employers and employees.
Recognising that our economic response to this crisis needs to be urgent, wide-ranging and co-ordinated, the Enterprise and Skills Strategic Board, responsible for co-ordinating the activities of Scotland's enterprise and skills agencies, will refocus their attention, capacity and efforts on addressing the economic challenges presented by this pandemic. The Board will establish urgently how the Scottish Government, agencies, businesses and local government can collaborate to support the restart of our economy, mitigate the rise in unemployment as we recover from COVID-19 and help those who have lost jobs get back to work.
Over the coming weeks I will work closely with the Board and business community as we begin to set out clearly – and in detail – the package of support to be made available to individuals and businesses to restart our economy and to aid quick recovery from this crisis.
Tags: employment; labour market
Comments