Scotland's Economy
COVID-19: Safe working guidance and restart plan for forestry industry
May 30, 2020 by Fergus Ewing MSP No Comments | Category Uncategorized
Rural Economy Secretary Fergus Ewing
Easing out of lockdown will only be successful if we do so gradually and cautiously. The focus of the Scottish Government remains on tackling the virus, protecting public health and saving lives, but we are also acutely aware of the need to support vital sectors of the economy, such as forestry, to resume their activities safely.
I welcome the fact that outdoor forestry operations can all now restart beginning next week, but it is vitally important that physical distancing is observed at all times to ensure this is done safely, and which reassures everyone that no-one's health is put at unnecessary risk.
The forestry sector has already made a vital contribution to the current COVID-19 response. Throughout lockdown, many businesses and workers in the sector undertook essential business activity, to produce construction materials for emergency COVID-19 hospitals built throughout the UK and the pallets which are essential for transporting medical supplies and equipment and food.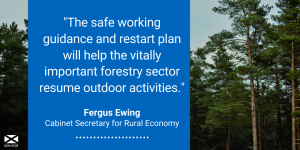 They were able to do this safely and securely and I commend them for their contribution. The safe working guidance to support the forestry sector's operations – ranging from tree planting, weeding, surveying, inspection and deer management – will ensure this continues to be the case.
The information and advice contained in this guidance is also relevant for businesses and employees carrying out other outdoor work such as peatland restoration, wildlife and nature reserve management and ecological surveys and research.
The documents published today, produced in collaboration with Scottish Forestry, Forestry and Land Scotland, Confor, the Forest Industry Safety Accord and the Forestry Contracting Association, give the industry clear guidance to help a gradual and safe restart over time. Crucially, unions and workforce representatives have also been consulted.
Employers and businesses should use this guidance to prepare to resume their operations, adapting and changing any working practices where necessary – and they should involve unions and workers in those preparations too. Throughout this restart, we should expect to adapt or change pace to the very dynamic and challenging nature of the threat from COVID-19.
We all know that forestry and environmental land management is vital for the future and for our climate change ambitions.
We are increasingly coming to realise the significant role they play to the economy and, as we move gradually from restart to recovery from the impacts of this pandemic, forestry will play its part in our plans for the Green Recovery too.
Comments