Scotland's Economy
St Andrew's Day 2020 – One million words of kindness
November 30, 2020 by Jenny Kane No Comments | Category Culture, Uncategorized
To celebrate St Andrew's Day this year, the Scottish Government launched the One Million Words of Kindness campaign asking people to recognise the value of connecting with and helping others by reaching out to friends, family, neighbours and communities.
Edinburgh-based illustrator Emily Hogarth designed a postcard for the campaign to help spread words of kindness throughout Scotland and beyond.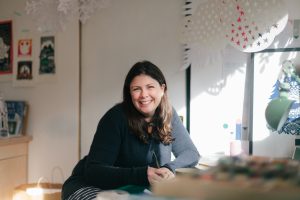 Emily explained:
"This year has been a tricky one for many and now more than ever, I believe that we should be kind to one another. When the Scottish Government approached me about this campaign, I knew I wanted to be part of it.
"I have been inspired by the small acts of kindness I have seen from others during this time and wanted to convey that in my artwork. From sharing a cup of tea with a neighbour over the garden wall, hosting zoom parties for family and friends when we couldn't be there in person, giving a morning hello to a stranger and the millions of rainbows on our windows supporting our NHS.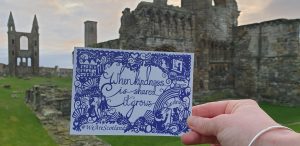 "Therefore, I thought it would be nice to include some of these moments in the design and intertwine them with Scottish thistles and words that are often associated with acts of kindness. The central image is one of a heart and the text is written within – I think the heart shape is a powerful symbol of love and that is what this campaign is all about – spreading some love.
"When designing the postcard, I mapped out a few versions and worked them all up into finished designs for the team at the Scottish government to choose from. I wanted the design to have my signature paper cut feel, with my handwritten text and make it feel like something special.
"I am looking forward to going to my own local Lidl and picking up copies of the postcard and sending my own words of kindness to loved ones I haven't seen a lot this year. For me, that is what St Andrews Day is all about – reminding ourselves and our family and friends that Scotland is a county full of love and kindness and that we should share that with the world."
Tags: St Andrew's Day
Comments