Scotland's Economy
Scotland's economy outperforms recovery predictions
August 26, 2021 by Kate Forbes MSP No Comments | Category Business, Economy, Employment, Finance, Investment
I warmly welcome the Scottish Fiscal Commission's latest official forecasts which suggest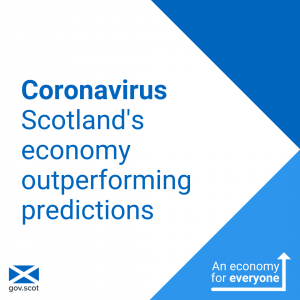 Scotland's economy is recovering from COVID-19 much faster than anticipated.
The predicted return of economic activity to pre-pandemic levels in the first half of 2022, almost two years of ahead of the SFC's previous forecast, is a tribute to the innovation and adaptability displayed by businesses during the pandemic. Equally encouraging is the forecast that unemployment will peak at a much lower level than predicted in January.
Increasing economic prosperity is one of my core objectives because it is the means by which we invest in infrastructure, deliver public services and support our citizens. Fair and sustained economic growth is essential and to that end I am today chairing the second meeting of the Advisory Council on Economic Transformation to discuss an ambitious 10 year national strategy that builds on our economic recovery, prioritises investment in the industries of the future and delivers new, good and green jobs.
The SFC's forecasts are also an indication that the Scottish Government's policy of providing more than £3.7 billion additional COVID-19 support for businesses, while carefully easing restrictions and pushing ahead with the vaccination programme, has been the correct approach.
The SFC looks in detail at future social security spending. We are delivering a social security service based on dignity, fairness and respect, rather than taking an austerity-led approach, as the UK Government has done, where all that matters is driving down the cost of supporting those who need it most. Social security is an investment in the people of Scotland and we are committed to making sure everyone can access the financial support they are entitled to as we continue to roll out devolved and new benefits, including disability benefits and the Scottish Child Payment to under 16s.
The pandemic is not over. Challenges remain and sectors such as retail, tourism and hospitality still face obstacles on the road to recovery. But the SFC's forecasts are a further sign that Scotland's economy is emerging from the global pandemic in good shape as we work with business and trades unions to build a greener, fairer and more prosperous economy with wellbeing at its core.
Kate Forbes, Cabinet Secretary for Finance and the Economy
Background
The Scottish Fiscal Commission's report:  Scotland's Economic and Fiscal Forecasts – August 2021
Comments