Statistics
Scottish Government Urban Rural Classification 2016
March 29, 2018 by resas No Comments | Category Farming and rural
The Scottish Government Urban Rural Classification 2016 was published today. This version updates the previous version (2013-2014) with the latest available settlement population figures and drive time estimates. The definitions of urban and rural areas underlying the classification are unchanged.
Due to changes in postcode population densities Barrhead (East Renfrewshire) is now classed as a settlement in its own right in the 2016 Classification. Barrhead was part of the Greater Glasgow Settlement for the 2013‑2014 Classification. As a result Barrhead is now classed as an 'other urban' settlement.
Changes to settlement sizes have resulted in some changes in classification to some settlements:
The populations of Dalgety Bay (Fife), Forres (Moray), Kilsyth (North Lanarkshire) and Prestonpans (East Lothian) have risen above the 10,000 population threshold and are now classed as 'other urban' as opposed to 'small towns'.
Six settlements previously had population estimates below the 3,000 population threshold but have risen above the 3,000 threshold for the 2016 Classification and are now classed as 'small towns' as opposed to 'rural areas'. The settlements are Blackburn (Aberdeenshire), Conon Bridge and Maryburgh (Highland), Garelochhead (Argyll and Bute), Laurencekirk (Aberdeenshire), Leuchars and Guardbridge (Fife) and Winchburgh (West Lothian).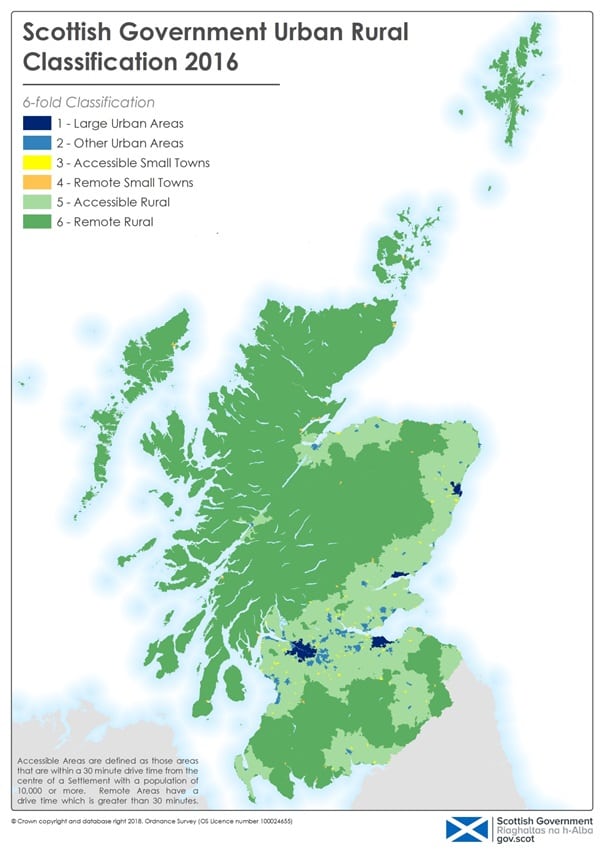 The full publication can be accessed here.
A storymap has also been created to give an introduction to the classification, including comparisons with other UK classifications.
Tags: Accessibility, Drive Time Analysis, Population Estimates for Settlements, Rural, Urban, Urban Rural Classification
Comments