Statistics
Working as a government statistician – Lyndsey Middleton
January 7, 2020 by lyndseymiddleton No Comments | Category Housing, Public Sector, Uncategorized, Working in statistics
With the Scottish Government welcoming applications for Assistant Statistician posts, we have a series of blog posts by government statisticians talking about how they became Assistant Statisticians. We also have some fixed term opportunities available now. If you are interested in a fixed term opportunity, please submit your up to date CV to: statistics.enquiries@gov.scot
In this blog Lyndsey Middleton tells us about her experiences.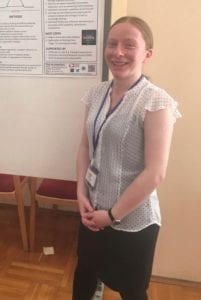 Prior to joining the Housing, Homelessness and Regeneration team at the Scottish Government in November 2018, I had a varied career path. I started on a route to become a Clinical Psychologist, completing my Bachelor's degree in Psychology at Northumbria University and then my Master's degree in Developmental Psychopathology at Durham University. Whilst studying, I had a mixture of Psychology related jobs and volunteer roles including a Social Focus Group Assistant at Age UK, a Research Assistant in the NHS and also an Educational Support Worker in a private support organisation – none were particularly statistical. After my Master's degree, I went on to become an Assistant Psychologist specialising in neurological rehabilitation in that private organisation. However, around 9 months in I realised that this just was not for me and I was not sure if it was the area of work (community rehabilitation as opposed to the educational setting in my previous roles) or whether I was not cut out for the career in general. So I made a decision to leave that career path and train as a Careers Adviser in England.
I worked as a Careers Adviser at the National Careers Service for around 10 months and whilst I worked there I also undertook a (separate) voluntary research internship at Northumbria University, which was a Psychology and Information Technology related careers project. Initially, I wanted to do this to help to develop my own research and statistics skills further but it ended up being a path which led me undertake a PhD at Edinburgh Napier University.
I spent the 3 years prior to joining the Scottish Government in November 2018 studying for that PhD and finally submitted it (whilst working at the Scottish Government) in August 2019, passing my viva soon after in the following December. My PhD research explored the development of innovative work behaviour (innovation from employees) through process of working learning in three case study organisations, so again it was quite related to my prior work as a careers adviser in terms of workplace skill development. Although my case study data collection was mainly through interviews and focus groups, my research also involved a lot of statistics. I completed a secondary data analysis of the Community Innovation Survey in my first year and then went on to create my own survey and then analyse the findings from the three different organisations in Scotland, England and Finland. It was this statistical work that helped me realise that I did actually enjoy working with data and statistics so I decided to make an application for the Assistant Statistician posts when they were advertised.
Whilst studying for my PhD, I did a lot of academic work (e.g. lecturing, tutoring, journal article reviewing and copy editing for a journal) but I always knew that I did not want an academic career overall and my opinions were even more set in stone when I met a Scottish Government Social Researcher, about half way through my PhD, who had pretty much the same academic and employment background as me.
I applied for the Assistant Statistician post in early 2018, just before I undertook a 3 month Scottish Graduate School for Social Sciences PhD internship in the e-Health team at the Scottish Government, so it was quite nice to be able to bring my experience of the internship to the interview for the Assistant Statistician role. I was unsure if my statistical background would fit with the requirements of the Scottish Government but clearly it did. The Scottish Government take on people from all backgrounds so I would strongly encourage anyone to apply if you feel you meet the requirements of the role, even if there is some slight doubt as to whether you feel you are a 'perfect fit' (I feel there is no such thing as a 'perfect fit').
So, I have been here for just over year and have worked in the Housing Statistics team ever since I started. Our team members are responsible for the collection, analysis and presentation of Housing Statistics. I collect and quality assure data from Scottish local authorities and analyse this data for publication. I project managed our latest publication (from preparation of the data collection forms to publication) and I have worked a lot with our stakeholders on improving the way we collect and analyse our data too – a lot of things to experience in the year I have been here.
I need to work closely with our policy colleagues to understand the importance that data has on making housing related decisions in the Scottish Government, and the vital role our local authorities play in this. The analyses that we do as Statisticians helps our colleagues to understand what the figures mean and we work with them to apply the findings to policy work (e.g. for changes to current policy or the development of new policy). I have also been able to work with some of our stakeholders, and the general public, to provide and explain some of the figures we produce, analyse and publish. This had broadened my understanding of communicating statistics effectively as we never know how far our statistics reach until we start engaging with our users.
One thing that I discovered was that in the final stages of my PhD thesis write-up, my team at the Scottish Government were great in allowing me to have a flexible working pattern (as many Scottish Government staff do) to complete my last chapters, and also made sure that I was not taking on too much at the same time. There is a real focus on work-life balance at the Scottish Government which I like and I do not think I could have worked full time and finished my PhD without this support.
From a career perspective, I feel that choosing to apply to the Scottish Government as opposed to an academic career was right for me. It means I have been able to apply the skills developed across my whole career to a job which I enjoy.
Tags: careers, housing, statistics
Comments