Statistics
Working as a government statistician – Kirsty Yule
January 6, 2020 by lyndseymiddleton No Comments | Category Public Sector, Uncategorized, Working in statistics
With the Scottish Government welcoming applications for Assistant Statistician posts, we have a series of blog posts by government statisticians talking about how they became Assistant Statisticians. We also have some fixed term opportunities available now. If you are interested in a fixed term opportunity, please submit your up to date CV to: statistics.enquiries@gov.scot
In this blog Kirsty Yule tells us about her experiences.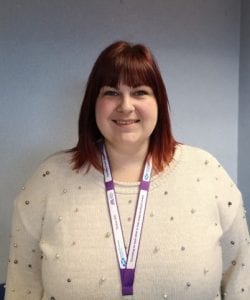 I left high school with few qualifications but a strong passion for the natural world. After several years as a presenter at Deep Sea World, I started my own company providing interactive workshops to public groups and school children across Scotland and Ireland, focussing on conservation, endangered species and the illegal animal trade. I provided workshops for more than 64,000 people over four years and my achievements were recognised with two prestigious business awards.
My work triggered a strong need to learn and after four years, I sold my company and secured an unconditional place on an BSc honours degree in Wildlife Conservation at the University of Plymouth, becoming the first person in my family to go to university. My university career was a dream: I loved learning and the people I met; I volunteered for habitat and wildlife charities; I chaired the British Science Association student branch; we took field courses in Spain and Mexico; and I completed my thesis on the ecological restoration of surface coal mines as habitats for insect pollinators. The year after I graduated, I was awarded a scholarship for a PhD in Ecology and Biodiversity at Victoria University of Wellington, New Zealand. After achieving my doctorate, I took a position as a Postdoctoral Research Associate with Imperial College London where my research focussed on the effects of pesticide use on invertebrates in the Maldives, sharing the findings from my analysis with island owners, the local Maldivian government and the residents of local islands.
Life as a Post-doctoral researcher has many advantages and rewards, but the constant uncertainty of where and when your next contract would be was not for me and I made the decision to return to Scotland to be with my family and build my life here. Looking for potential work opportunities that would allow me to apply my research and analytical skills outwith academia was a huge learning curve and a more protracted experience than I had expected. Whilst searching for opportunities, I came across the Assistant Statistician positions advertised by the Scottish Government and a whole new world opened up before me. I was hesitant to apply at first, not sure if my specific analytical and research skills could be applied to a government statistician role. However, after breaking down the essential criteria and qualification requirements that were advertised I realised I was able to demonstrate how my skills could be transferred to the role. I applied, successfully passed the assessment centre and became an Senior Assistant Statistician.
I've now been here for just over a year and a half. My first post was in National Records of Scotland where I joined the team developing the statistical disclosure controls and outputs for Scotland's Census. The role was varied and interesting with a huge amount to learn: from the types of analysis that is conducted to produce outputs from Census data; to the strict data management that allows us to protect people's confidential information for 100 years; to the integral part that Scotland's Census plays in underpinning the myriad of policy and service decisions made across the country, supporting the provisions used by every person in Scotland. I was supported by a dynamic, and intelligent team, with a range of experience and knowledge, who were committed to the valuable work and dedicated to achieving the best possible census for Scotland. I received training and a range of statistical inductions designed to embed new Assistant Statisticians into the Government Statistical Services group and to provide an understanding of the wider work of the Scottish Government. Continued Professional Development is strongly encouraged and I've shaped my training around my own career aspirations and the ongoing needs of the business.
After my nine month probation period I accepted a temporary promotion to the grade above, where I continued my work within Scotland's Census but in the role of Statistical Quality Assurance. Here I have helped to develop statistical quality assurance activities to ensure we do not add bias or errors to the data during the collection and processing of census data and the production and dissemination of outputs. I work closely with multiple teams across the programme to understand their statistical processes and to develop sound statistical methodologies and analysis. I contribute to a statistical peer review group and work with external stakeholders to coordinate critical review of methods by topic experts and to validate the census population estimates before the first outputs are released. I am also responsible for collating the statistical evidence that demonstrates how We comply with statistical guidelines. This work involves strong people management skills and the ability to work with lots of people with varied personalities and workloads in order to obtain the information I need within specified timescales. I thoroughly enjoy how varied this work is, how every day is a learning opportunity and how the work we are achieving as a team will shape Scotland for years to come.
For me, a major attraction to working for the Scottish Government is the range of benefits that come with the post. The flexible working is a significant factor in achieving a positive and productive work/life balance, whilst the ability to work from home on occasion helps to navigate a range of personal commitments with a fulfilling, successful career. I also enjoy the opportunities to develop and progress my career within the Scottish Government at a pace that suits me. There is encouragement within the analytical profession to rotate posts every few years, giving you the opportunity to gain experience in a range of sectors, and regular opportunities to apply for promotions or internal vacancies. Coming from a previously varied career, much of which was spent on an often unstable income, the significance of being able to move between posts but maintain a regular, pensionable salary with a generous annual holiday allowance also goes a long way to solidifying my commitment to remain in the Scottish Government. But the biggest draw for me, as it has always been, is the opportunity to keep learning, to keep growing, and to keep making a difference with the work I do. Working with such an excellent team of people helps too!
Tags: careers, census, statistics
Comments