Building Standards
Changing Places Toilets
November 21, 2019 by Michelle Williamson 2 Comments | Category Building Standards, Publications
Post by Thomson Dyer of Building Standards Division
A toilet is not just a toilet. It's a life-saver, dignity-protector and opportunity-maker. Whoever you are, wherever you are, access to sanitation is a basic human right.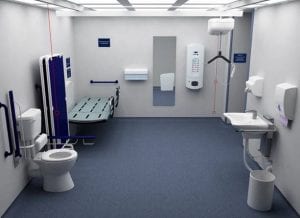 However for many people in Scotland with complex care needs, access to this most basic human right is not as easy as you would expect in a modern society. In Scotland there are around 1,000,000 disabled people and, of that number, around 25,000 require access to larger sanitary facilities with specialist equipment such as: a hoist, adult sized changing bench and a peninsular WC (toilet with a space either side for carers to assist). These larger sanitary facilities are known as 'Changing Places Toilets' (CPTs) and currently throughout Scotland there are 205 of them available.
Without access to these facilities, families are sometimes forced to change loved ones on an unhygienic public toilet floor—this isn't acceptable. It can lead to people missing out on opportunities because there are no suitable sanitary facilities nearby. It can lead to social isolation as people are not confident that appropriate facilities will be available out-with the comfort of their own home. This not only affects the individual directly but can affect their friends and family as days out may have to be cut short—if they happen at all—due to the lack of suitable facilities.
In 2013 the Building Standards Division (BSD) worked with PAMIS, the charity who have been campaigning to increase CPT numbers throughout the country, to introduce a specification for CPTs into the Scottish Technical Handbooks. The specification would promote consistency when building owners elected to install a CPT in their building as it would outline the essential features—features that are essential to users of these facilities. However, the installation of these facilities remained voluntary and solely at the discretion of the developer.
By 2018, the number of available CPTs in Scotland was still less than 200 and there was a need to do more to increase provision. A public consultation was launched in February 2019 and ran for three months. The response to the consultation was overwhelmingly positive with 1112 responses in total, the highest response to a public consultation that BSD has received.
Following the consultation, the Non-domestic Technical Handbook was amended and a new clause, 3.12.13, was added to cover CPTs. This change covers CPTs in large retail, assembly and entertainment buildings, hospitals and schools with community facilities. The new Technical Handbook came into force on 1st October 2019.
World Toilet Day was celebrated on the 19th November and it was good to hear from PAMIS, on world toilet day, that Scotland is considered a world leader on CPTs. Many nations around the world are now looking to Scotland as an exemplar when considering the need for Changing Places Toilets.
Tags: buildingregulations, buildingstandards
Comments