Building Standards
Graduate Placement at Building Standards Division
December 18, 2019 by Michelle Williamson 1 Comment | Category Building Standards
A blog by Eilidh MacPherson
For the last year I have been working for Building Standards Division (BSD) in a graduate placement role.  My background isn't actually in building standards or any related field.  Prior to joining Scottish Government I was at Abertay University for five years where I studied Forensic Science and then moved onto postgraduate level studying Environmental Science. After this I moved back to Edinburgh and found out about this opportunity through a former colleague of BSD. The purpose of this placement is to give me experience working in the Development, Procedural and Technical units of BSD.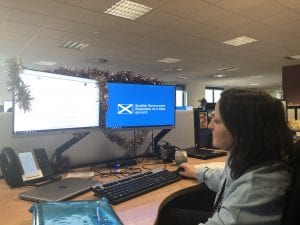 Development Team
My first 4 months was in the development team, specifically working on the certification review and with the Fire Safety Ministerial Working Group. In my first week I attended a Ministerial Working Group meeting, where I gained experience writing minutes and met Ministers and other senior members of staff. I then began working with the certification team. The certification process is currently under review and I was required to help out with organising meetings, help with organisation of the project as a whole and map our website to show what certification documents were available. I also had a chance to gain experience drafting Freedom of Information requests and Ministerial Responses.
Procedural Team
I then moved to the procedural team, where I was involved in the website review. I was responsible for setting up meetings with each unit to ask colleagues for their opinion on how the website could be improved. I also mapped out the website for the meetings to show colleagues the content currently on the website. We held meetings with the web team to discuss our project and some of the changes we were intending to make. I wrote a paper for the meetings that explained the background to the project and the work that had been carried out so far. This was very useful as it gave me experience writing in a different style than I did when I was at University. The team also arranged for me to go on a site visit. I really enjoyed the day as I got to see how work done in BSD is applied with local authorities and on site.
Technical team
I am currently in my final placement in the technical team. I have been working on two main work streams. The first involves assisting with the analysis of data sets in relation to the Section 63 review. The second work stream I am working on is a research project around compliance methods for Section 6 (Energy) of the domestic technical handbook. This work is likely to continue until March, bringing me to the end of my placement. My time in BSD has given me a wide range of experience which has helped me to develop skills that will help me in future work.
Comments