Building Standards
Developing the Building Standards Workforce Strategy
February 4, 2020 by michellewilliamson 2 Comments | Category Building Standards, Workforce Strategy
A Partnership Approach by Gordon Gilchrist
You might know that Building Standards Division (BSD) is currently developing a workforce strategy for the building standards verification service. We intend for the strategy to deliver positive outcomes and changes locally and nationally that will help local authorities continue to build successful teams and ensure the service is sustainable for the future.
In developing the strategy, we have developed a set of commitments supported by actions that we will work towards to deliver with partners. The commitments and related actions are based the following themes:
• developing a professional framework;
• promoting the building standards profession;
• growing education and training opportunities;
• improving succession planning activities; and
• ensuring data reporting is relevant.
Last month was a key stage in the development process when we were able to consult directly with local authorities on the vision, aims and intended outcomes from the strategy. On 23 January, we held a workshop to discuss and agree the proposed national and local level commitments and consider the practical steps required to make the strategy a success. BSD was supported by Ed Griffin from the Institute for Employment Studies, our external research consultant, who led two interactive sessions.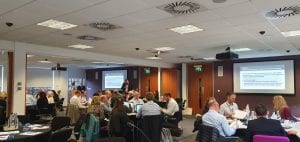 It was fantastic to see involvement from all 32 local authorities on the day which really showed how important the future building standards workforce is to all of us. The valuable contributions from Heads of Service, building standards professionals and colleagues from HR are helping us to tailor the strategy actions around the real-world challenges faced by verifiers.
We really appreciate the willingness from everyone to work with us at this point as the strategy is taking shape. The advice, opinions and reaction to the strategy from the group were very positive and it was great to hear support for what the commitments and actions are looking to achieve. However, we have more work to do and discussions with Local Authority Building Standards Scotland will continue to ensure there is agreement for all aspects of the strategy.
One of the main points raised was about the impact of the strategy on existing staff in building standards teams. Our approach is to be inclusive of everyone in the building standards profession so that existing staff are able to broaden their skills and pursue their careers through enhanced education and training opportunities. The focus on attracting people into job roles is balanced with more effective succession and workforce planning to ensure teams are able to deliver a first-class service. The strategy actions will recognise, but not seek to amend, existing policies and practices around recruitment, grading, promotion and conditions of employment.
The strategy actions are all intended to support managers to build a sustainable building standards verification workforce. An integral part of this effort will be to define the building standards profession more clearly and work collectively to promote careers to a much wider group of people, including "career changers" with transferable skills who are looking for a new challenge. The strategy will do this and show that building standards is a profession that values diversity and is open and accessible to all.
We are currently collating and analysing all of the feedback from the workshop and we are confident this will help shape the strategy to benefit everyone involved. Keep checking the Blog for more information on progress as we get ready for a launch in the next few months
Comments